Watt's Up SolAero Technologies
Mean coworkers and poor leadership affect all of us negatively. SolAero Technologies has both. They tried to bribe me to quiet my comments. For my blogging, company leaders twice called the police in childish attempts to obstruct this truth. As we know today, silence allows Predators and Negative People to continue their evil ways. If you're a prospective employee or investor, be warned! SolAero Technologies is a dangerous place.

Their corporate culture is driven by FEAR and CONFUSION. They suffered a shooter in the workplace a few years ago. Much frustration there! During initiation, the company provides training how to hide from a violent aggressor. SolAero Technologies also has five nuclear reactors on property. There are many toxic chemicals, as well as large stores of gold and silver. This puts the facility on the Homeland Security watch list and security is amateurish. Senior managers cheated me. They cheated many of my coworkers. Senior management is in disarray and this creates a "revolving door" of employees and mid-level managers. Leaders engage in unethical and unprofessional behavior. They play favorites based on personal relationships — rather than focus on merit and work performance. I hope my commentary leads the company to change their culture. They claim to seek Rock Stars but reward Harvey Weinstein types.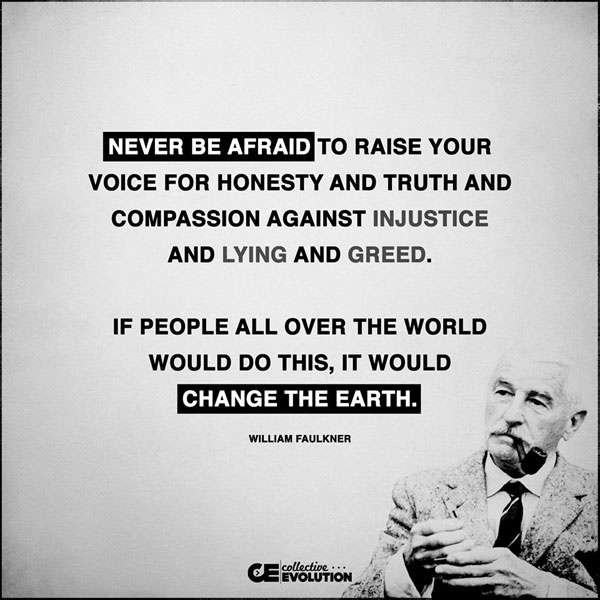 The tide is changing. The powerful can no longer hide from the collective voice of survivors everywhere. Executives, actors, producers, politicians and TV personalities are answering for their abuses. Some incidents are recent, and some span decades. This was unheard of just months ago. Companies, industries and even Congress shielded perpetrators. They paid out settlements and then sat back as the behavior continued. Not anymore. While some may continue to resist the progress being made, they will ultimately have no choice but to grow and improve. That is the power of our collective voice.
But let justice roll down like waters and righteousness like an ever-flowing stream.
2018 Resolution: End Abusive Work Environments In America
SolAero Technologies Receives State of New Mexico Funding Award To "Fire and Hire"
The State of New Mexico will reimburse SolAero Technologies about $115,774 for "firing" 16 employees and "hiring" 16 new workers. The State program does not reimbursement the company to train current employees. SolAero Technologies never offered me an option to move laterally. I'm not aware they extended an offer to any of my abandoned coworkers. Thanks, Governor Martinez!

In the December 2016 letter of application for funding assistance, SolAero Technologies (name redacted) wrote, "We would like to request the assistance of the State of New Mexico through the Job Training Incentive Program in the amount of $180,840.00 for funding 25 jobs." And, in February 2017, the New Mexico Economic Development Department (NMEDD) awarded SolAero Technologies $182,090 ($180,840 for 25 new hires at an average wage of $19.41, including $1,250 in audit fees) through the Job Training Incentive Program (JTIP) to support new employee training for their proposed expansion in the Albuquerque area. Factoring in the 25 employees as stated in the application, the training incentive for each new employee averages $7,234 or a total of $115,774 for 16 employees.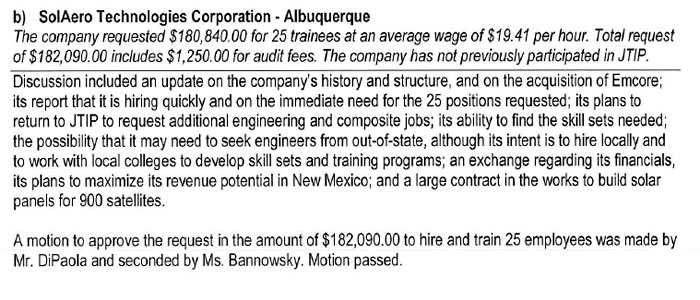 New Mexico Economic Development Department Board Minutes 2.10.2017
Comparatively, the New Mexico Economic Development Department awarded Safelite Solutions $872,700 ($870,700 for 320 trainees at average wage of $13.55 and $2,000 in audit fees) through the Job Training Incentive Program (JTIP) to support new employee training for their proposed expansion in the Rio Rancho area. This comes to about $2,721 per trainee. The award to SolAero Technologies is about three times greater.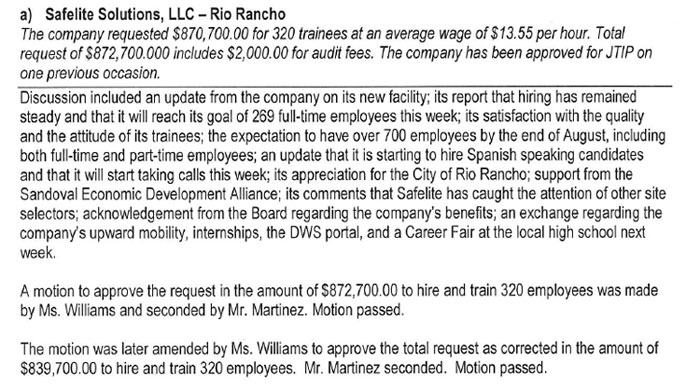 New Mexico Economic Development Department Board Minutes 2.10.2017
Phyllis Sullivan, VP of Finance at the time, submitted the request. SolAero Technologies fired her in spring 2017. Phyllis is a talented, hard-driving professional. She was in tears when we talked about her dismissal. It made no sense and demonstrates the chaos and confusion within the company. SolAero Technologies parted with General Manager, Jerry Winton, at this time. He left us a great message from a great man!
From: Jerry Winton
Sent: Tuesday, March 14, 2017 3:59 PM
Subject: Thank you for everything you did....

Team,
As I mentioned to some of you yesterday ... I came to work every morning with 3 simple things in mind: To strive to be a model of Integrity, Work Ethic and Determination.

I won't say goodbye as I'm quite hopeful our paths will cross again. I won't say good luck as you don't need it. You all are a top notch team and you made my job easy.

Thank you all again for your wisdom, inspiration, support, patience, perseverance, and passion. I honestly could not be more proud of you and the results we achieved.

Be proud of yourselves, you deserve it. Support each other, you need it. Challenge each other in a way that fosters creativity and mutual respect, it is important.

Most of all, keep being great! Please stay in touch ...
SolAero Technologies also applied for about $250,000 from the City of Albuquerque. We are investigating this funding request as well. The company claimed they plan to create an additional 100 high-tech manufacturing jobs. Yet around October 19, 2017, SolAero Technologies fired about 16 seasoned employees. Does the NMEDD JTIP encourage businesses to lay off competent workers to receive public funding? The program only rewards companies when they recruit and hire NEW staff. Governor Susana Martinez's program provides no funding for companies who laterally move and train current employees. For SolAero Technologies, the decision is a "no-brainer."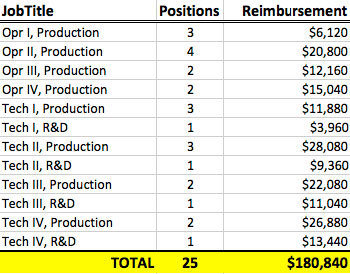 By laying off 16 current staff, and hiring 25 new employees, the State of New Mexico pays SolAero Technologies $180,840. Governor Susana Martinez incentivizes companies to fire and hire, rather than keep staff and retrain them. Would you pass up FREE money? We review the NMEDD JTIP and SolAero Technologies participation in the program. [Full Story]
On Friday [12.22.17], the New York Post reported AT&T recently laid off "215 high-skilled technician jobs in nine Southern states" and plans to fire nearly 700 workers in Texas and Missouri beginning in February. Union representatives expressed concern and resentment toward the company. "How can you lay people off and then give them $1,000 and say that there's going to be more jobs available? I wish someone could tell me how that's possible because I have to explain that to my members, and right now at this time of year, this is a difficult pill to swallow."
Time's UP Initiative Grows: The Truth has power. The Truth will not be threatened. The Truth has a voice.
Kerry Washington, Reese Witherspoon, Shonda Rhimes and America Ferrera say #TimesUP. They are just a few of the Hollywood A-listers involved. Over 300 women who work in television, film and theater launched a far-reaching campaign Monday that includes the creation of a legal defense fund to help less-privileged women come forward to stand up to misappropriate conduct they've suffered. Men are often mistreated in the workplace as well, although society isn't as familiar with this destructive behavior. #TimesUP on Men and Women Behaving Badly.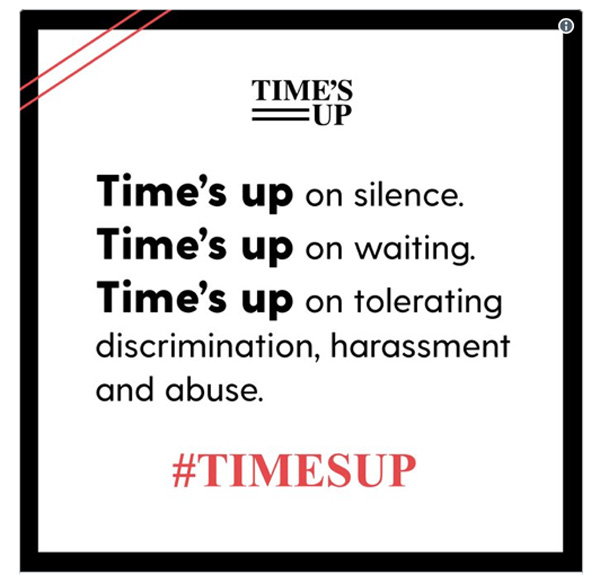 The Time's Up Legal Defense Fund, backed by $13 million in donations from over 200 donors, is spearheaded by high-profile attorneys Roberta Kaplan and Tina Tchen, who previously worked as former first lady Michelle Obama's chief of staff.
Earning a living should not come at the cost of anyone's safety, dignity or morale. It's well past time to change the culture of the environment where most of us spend the majority of our day — the work place.
Now, unlike ever before, access to the media and important decision makers has the potential of leading to real accountability and consequences. We want all survivors of harassment, everywhere, to be heard, to be believed, and to know that accountability is possible. Most of the inappropriate behavior is carried out by powerful men, but increasingly, as women move up the corporate ladder, some now abuse their male coworkers.
My senior female coworker, Maria Rosario Gonzales (Velasquez) was paid generously by SolAero Technologies — making $90,000 plus bonus per year. Due to management confusion, a couple senior managers put unfair and counterproductive pressure on her. In the spring of 2017, I emailed our CEO asking him to rein in the overbearing executives. I stood up for her. I fought for her. They were hurting her morale and I wanted to ensure my partner was treated with the dignity and respect she deserved — and had earned.
My support for her was not returned. She meddled in my affairs — claiming I was "not a good team player." I asked why? "You have your own island," she responded. Incredibly insensitive! Maria Rosario Gonzales (Velasquez) was punishing me for sitting in the work station assigned to me by our IT Director, Eric Keucherer. I had asked not to be moved to that spot. He put me there over my objections. I requested new IT Manager, Tom Hensley, move me. He denied my plea. I did the best I could in a challenging situation. The isolation was difficult. My coworker made it worse. On Friday, October 6th, I sent a text asking her to change her hurtful and unprofessional behavior.
You spent your time texting friends rather than working on Wednesday (October 4th) — this is company time. You texted to avoid me. We would have worked on other things. You are distracted. You are hurting our work; you are hurting the company. We now start a HUGE project. Pushing a coworker away; making me feel uncomfortable is not a good strategy. We can talk by phone; we can text; we can meet over coffee; we can meet with a third party. Professionals squash differences quickly and move on. The ball is in your court and the clock is winding down. Do you hit or miss the shot?
Maria Rosario Gonzales (Velasquez) did not respond. She continued her Silent Treatment strategy. HR Director Silvia Gentile supported and protected her. I served as a Criminal Justice researcher while pursuing my PhD. I wrote many reports detailing the prison population. About 90 percent of inmmates are male; ten percent are female. Women drive the #MeToo and #TimesUP initiatives, as most offenders are male — yet women violate and abuse coworkers as well. My senior analyst has now become the Poster Child of Women Behaving Badly. #TimesUP for both male and female delinquents. Grow up in the workplace and be professional!
The truth has power. The truth will not be threatened. The truth has a voice.
CBS News Fires Political Director Amid Allegations of 'Inappropriate Behavior'
I'm thankful to hear responsible companies across America are doing the right thing. They have no tolerance for bullsh*t in the workplace. We have much to do to strengthen our economy and nation. We need to end abusive workplaces. Unfortunately, many HR departments are staffed primarily by women and only focus on inappropriate activity by men. They ignore the pain women inflict on their male coworkers. Steve Chaggaris joined CBS in 1999. He held a number of different positions, including producing, reporting, and editing responsibilities. Although he left CBS for two years in 2010, he returned to serve as CBS News' senior political editor. Last March, the media conglomerate promoted him to political director. They took swift action when they received reports of inappropriate action.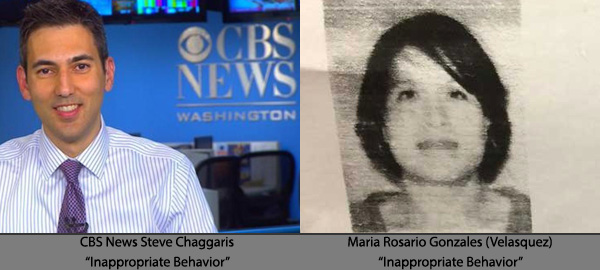 CBS Fires Inappropriate Steve Chaggaris; SolAero Technologies Protects Inappropriate Maria Rosario Gonzales
SolAero Technologis compensated my coworker, Maria Rosario Gonzales (Velasquez), much more than me. CEO Brad Clevenger told me she made $90,000 plus bonus. I made $72,500. She had power. She had seniority, as she had been with the company about four years. I was new — with the company only months. Senior management shielded and protected her. Professional leaders do not do this. For example, due to the numerous high-profile harassment cases, CBS and other major media companies have now issued reminders to staff about the importance of reporting harassment and other improper behavior to HR or other officials. A CBS News spokeswoman indicated the allegations against Chaggaris came to light shortly before the Christmas holiday — about the same time I reported my coworker's abusive behavior.
In the last two weeks, accounts of inappropriate behavior by Steve Chaggaris were brought to our attention and were immediately investigated," CBS said in a statement after CNNMoney inquired about Chaggaris.

As a result, CBS News has severed ties with Mr. Chaggaris for violating company policy, effective immediately.
Chaggaris was not the only person fired from a news organization Wednesday. IGN, a popular website covering video games, dismissed editor-in-chief Steve Butts. He had been under investigation for alleged misconduct, according to IGN.
As a result of the investigation, the company has appropriately determined to part ways with Mr. Butts.
I complained directly to my senior coworker, Maria Rosario Gonzales (Velasquez), "Please stop the emotional blackmail!" She ignored me. I asked her to meet with a trusted professional. She refused. I sought help from SolAero Technologies HR Director, Silvia Gentile. She thought the circumstances were amusing. She patronized me and trivialized the situation. She wrote to me, "Get.To.Work!" I was working. Hadn't missed a day of work. I came early; left late as needed. I was up-to-date on ALL assignments and my projects were practically perfect. It was my female coworker who was behaving unprofessionally. The HR Director told me on October 3rd my job was safe. After seeking intervention, the company fired me two weeks later.
Men.Are.Not.Protected in America's Workplaces!
Battered Coworker Syndrome
Major media outlets and Hollywood exploded in 2017 due to systemic abusive behavior by powerful people — particularly old men — toward their subordinate staff — primarily younger females. MSNBC Host Chris Matthews is now on the hot seat for allegedly furthering at times an openly derisive and brazenly sexist news operation that led some staffers to describe themselves as victims of "battered wives syndrome." [source] Abuse of Power isn't simply Male to Female. As more women take senior and leadership roles in corporate America, females also take advantage of their positions of power over subordinate or junior collegues. I consider myself a victim of "battered husband syndrome."

A close friend of Maria Rosario Gonzales (Velasquez), Cynthia Ponce, first nicknamed us "work husband and wife" in spring 2017. SolAero Technologies had assigned Rosario to supervise and train me, while instructing me to "shadow" her throughout our daily activities. Rosario was ending her marriage of over 20 years at the time. She told me her husband, Hector Gonzales, was a kind man, loving father and treated her well. "Why divorce?" I asked. She complained he wasn't good enough for her anymore. Victims of Chris Matthews' abusive behavior reported how he left the set once to continue yelling at a staffer, who he called "worthless" and an "idiot," while a panel of guests waited for him to cool down. Rosario considered her husband to be worthless. She treated me as worthless as well.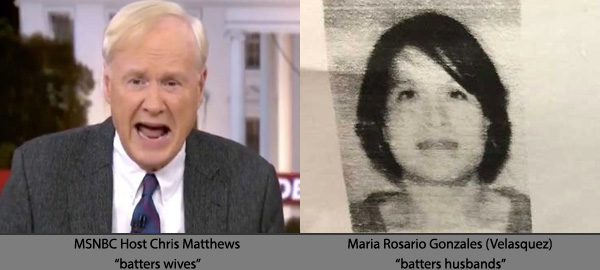 Chris Matthews Batters Wives; Maria Rosario Gonzales (Velasquez) Batters Husbands
Battered spousal syndrome (BSS) begins as an abusive cycle with three stages. First, the abuser engages in behaviors that create relationship tension. Second, the tension explodes when the abuser commits some form of abuse: physical, psychological, emotional, sexual or otherwise. As the cycle continues, the victim starts to believe the abuse is her/his own fault. Common characteristics of BSS victims are as follows:

1) S/he takes full responsibility over the abuse, and finds it difficult or impossible to blame the abuser. When I met with HR Director, Silvia Gentile, on about October 3rd, I blamed myself. "I must have done something wrong," I confided. "Do I smell badly? She treats me as a leper." I continually apologized. I couldn't sleep, as my senior coworker made me feel so guilty.

2) S/he fears for her safety. I broke into tears recalling the painful and abusive treatment that started in June. I told the HR Director, "She blames me for the change in seating assignment. It wasn't up to me. She didn't speak with me about it and I didn't know what she wanted. I tried many times to correct the assignment. Rosario was furiously angry with me!" Former producers claimed multiple female employees were often left in tears after Chris Matthews' angry tirades. Rosario didn't mind leaving me in tears!

3) S/he believes the abuser is all-powerful and will hurt her/him if s/he contacts authorities and seeks help. I told the HR Director in our October 3rd meeting I was afraid my coworker had the power to remove me from my job and I would be fired for seeking help. HR Director, Silvia Gentile, promised Rosario didn't have this power and my job was safe. SolAero Technologies fired me two weeks later!
"Sadly, I know other women who won't even be an anonymous source regarding Chris Matthews because they're that concerned about the door closing on career opportunities in media," the producer concluded.
For seeking help about the abusive behavior, SolAero Technologies fired me. For speaking out about unfair treatment, my former hiring manager, Stephen Bradley, refuses now to consider me for a job. He has blacklisted me! He protects an abusive woman who he considers a friend and punishes the victim of abuse.
Another producer likened the behavior of Chris Matthews to that of a "teenage boy."
The behavior of Maria Rosario Gonzales (Velasquez) and HR Director, Silvia Gentile, were similar to that of "teenage girls."
In addition to Chris Matthews' troubling behavior toward women, all five of the sources who spoke about the workplace environment at "Hardball" described him as verbally abusive. "I would describe it as verbal abuse," one former producer asserted, recalling their own experiences with Matthews. "The screaming is beyond the screaming you've ever heard. You just feel so under attack." They claimed that Matthews' outbursts went beyond normal or justifiable frustration, and former staffers apparently felt like they had to "walk on eggshells" around their "abusive" boss.
I wasn't important enough to her to talk with me professionally. She clearly signalled she didn't want to work with me — although I had no idea why she was angry with me. Apparently, she didn't respect me in the slightest degree. I was invisible. I was worthless. I spent my days "walking on eggshells" around an abusive senior coworker.
One former NBC producer said Chris Matthews did not like to be challenged and doing so would lead to one of his fits of rage.
As Rosario continued to demand I change my seating assignment, I requested a meeting on about Tuesday, September 26th. We agreed to speak jointly with our new manager. On Thursday, September 28th, I learned she broke her professional promise and spoke with him alone. I challenged Rosario, "Why did you do this? Why did you cheat me?" Her fit of rage was to stay silent around me and avoid collaborating with me.
Silent Treatment happens when one partner pressures the other with requests, criticism or complaints and the other responds with silence and emotional distance.

Silent Treatment, even if it's brief, activates the anterior cingulate cortex — the part of the brain that detects physical pain. The initial pain is the same, regardless of whether the exclusion is by strangers, close friends or enemies.

Silent Treatment is called on as the weapon of choice because it's powerful and easy to get away with. There is nothing subtle about a physical or verbal lashing, but an accusation of the silent treatment, "Are you ignoring me?" can easily be denied. [source]
While someone like Matthews or the HR Director, Silvia Gentile, might scream, Rosario applied the Silent Treatment. This was her way to inflict pain without visible bruising — literally. Research showns the act of ignoring or excluding activates the same area of the brain that is activated by physical pain. On Saturday, October 7th, about 4:20pm, I pleaded with her to either say, STOP or OK, as she refused to communicate with me. No response. After a year of successful collaboration, Rosario let me know she had "no respect at all" for me. It must have been my fault.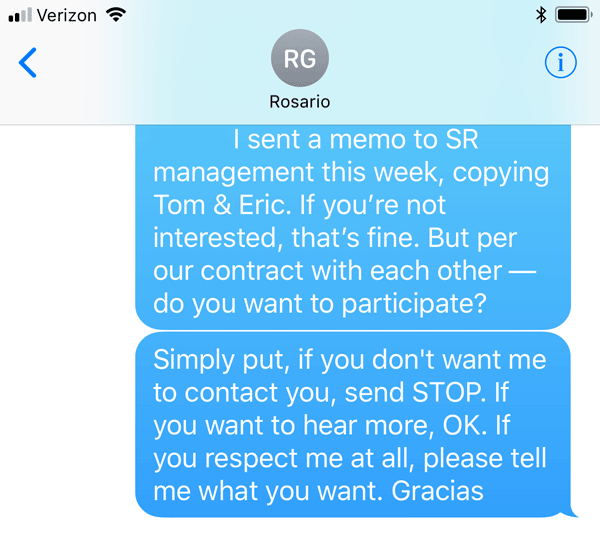 No Response: Maria Rosario Gonzales (Velasquez) Didn't Respect Me At All
Silent Treatment can present itself as a response more fitting of the "high road," one of grace and dignity, but research has shown it's anything but. Kipling Williams, Professor of Psychology at Purdue University, who has studied ostracism for twenty years, explains, "Excluding and ignoring people, such as giving them the cold shoulder or silent treatment, are used to punish or manipulate, and people may not realize the emotional or physical harm that is being done."
The former producer described the HR department at the network as completely unhelpful, indicating that they didn't take complaints seriously and would try to turn the victim into the problem.

"Their common first instinct is to protect the talent, no matter what the complaint, and then turn the victim into the problem," the producer insisted. "When Chris Matthews turns on you, look out. All they do is protect him. All they do is protect him from himself."

"One morning her desk was cleared out overnight," the former producer reported.
After I spoke with HR Director, Silvia Gentile, she snickered and implied, "Well, girls will be girls." She thought it was funny Rosario had "turned on me." She didn't take my complaint seriously. Rosario used her weapon of choice because it's powerful and easy to get away with. "Get.To.Work!" the HR Director wrote to me callously — but I was working. My female partner was the one not working. The HR Director enabled her emotional blackmail and blamed the victim. IT manager, Tom Hensley, told me his philosophy, "If personnel have problems, change the people." And, SolAero Technologies changed me! The HR Director seemed pleased with herself on October 19th when she handed me exit paperwork. Manager Hensley towered over me and urged me to hurry as I cleared out my desk.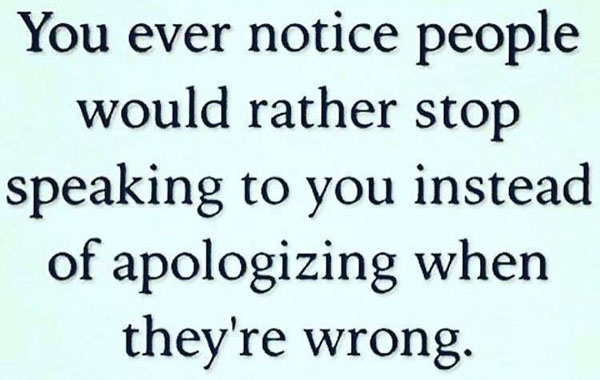 People Who Are Wrong Frequently Stop Speaking
After my female coworker broke a professional promise to me and began the Silent Treatment, I requested we meet with HR. She refused. She preferred to inflict pain without visible bruising — literally. The act of ignoring or excluding activates the same area of the brain that is activated by physical pain. She enjoyed hurting me! She was hurting Hector, her husband of over 20 years. She was hurting Hector Jr, her 21-year-old son; she was hurting Carlos, her 17-year-old son; she was hurting Octavio, her six-year-old son. She was hurting her entire extended family. See the pattern? And, the female HR Director protected my powerful coworker. Girls stand with girls and further misandry!
I'm not participating on this meeting. I don't want to be wasting others people time just because you and I don't know how to communicate well. I think I can easily fix this problem by sending you all my communications via email. This way you have detail information and we avoid misunderstandings.

No need for therapy time, I'm here to produce and get the job done.

Thanks,
Maria Rosario Gonzales (Velasquez)
On November 11, 2017, SolAero Technologies HR Director, Silvia Gentile [Silvia_Gentile@solaerotech.com], sent the following memo to company CEO and COO. She didn't want them to speak with me. This is another female who believes the Silent Treatment resolves disputes. Due to their imposed silence, this website/blog was born.
Brad_Clevenger@solaerotech.com (CEO)
Jeff_Lassiter@solaerotech.com (COO)

Extremely disturbing.

We cant answer his emails.

Sent from my iPhone
I made one final attempt to make peace with my original hiring manager, Stephen Bradley. He quit in frustration with senior management just weeks after he asked me to join SolAero Technologies. I believe Rosario complained to him about my comments and he now retaliates against me for protesting their inhumane and painful behavior.
Happy New Year Stephen,
Like you, Rosario gave me the Silent Treatment. This tactic can present itself as a response more fitting of the "high road," one of grace and dignity, but research has shown it's anything but.

Kipling Williams, Professor of Psychology at Purdue University, who has studied ostracism for twenty years, explains, "Excluding and ignoring people, such as giving them the cold shoulder or silent treatment, are used to punish or manipulate, and people may not realize the emotional or physical harm that is being done." The silent treatment, even if it's brief, activates the anterior cingulate cortex — the part of the brain that detects physical pain. The initial pain is the same, regardless of whether the exclusion is by strangers, close friends or enemies. Neither of you are taking the "high road," but rather acting childishly.

Adults have a responsibility to resolve conflict, not hide. Please educate yourself and Rosario. See The Surprising Truth About The Silent Treatment.

Thank you!
Paul Schrodt, PhD, Professor of Communication Studies, reviewed 74 relationship studies which involved more than 14,000 participants. His in-depth analysis revealed Silent Treatment is "tremendously" damaging to a relationship. It decreases relationship satisfaction for both partners, diminishes feelings of intimacy, and reduces the capacity to communicate in a way that's healthy and meaningful.
"It's the most common pattern of conflict in marriage or any committed, established romantic relationship. And it does tremendous damage."
I have a Beautiful Mind. My coworker does as well. We are both High IQ and Low EQ (Emotional Intelligence Quotient). I didn't want to drink a beer with her; didn't want to date her; didn't want to have sex with her. I'm happily married for 20 years and have a phenomenal, supportive partner. Cowardly, childish Rosario failed with her husband, three boys and extended family. My wife and I are successful. Like any married couple, we have ups and downs. Yet we work hard to communicate effectively. Rosario quit on her family; she quit on me. Simply put, she's a psychological manipulator and aims to change behavior or perception of others through abusive, deceptive or underhanded tactics.

SolAero Technololies tasked the two of us to solve many challenges. I loved her mind; she loved mine! We had an intellectual romance and conquered every challenge we faced — except for our professional relationship. Although Maria Rosario Gonzales (Velasquez) praised me for my courageous and fearless attitude, she was too afraid and arrogant to seek help when our team struggled. The female HR Director was ill-equipped to mediate this situation. Men in America, including me, recognize we have many faults. This is the most destructive error women frequently make. Silent Treatment is an invisible, painful and ruinous passive-aggressive behavior. Be a WOMAN — not a weakling — and speak up honestly as required of an ethical professional in the workplace!
When People Are Mean and Refuse to Admit It
UPDATE 12.31.17: End of a PAINFUL 2017; optimistic for 2018. Extended an Olive Branch to my original hiring manager, Stephen Bradley. After hiring me, he resigned about two weeks later. Quitting on our team at that time was brutal for all of us. He left us in a deep hole!
Hey Stephen,
Happy New Year's Eve to you and your beautiful family. At year end I try to make amends for any offense or transgressions. You told me that my comments misrepresented you. Sure didn't intend to do this. You opened the door for me and I made you proud! You were swamped, and except for Rosario, I was able to clean up the mess. I left SolAero in a strong, secure position as you always hoped. Remember?



Dominic's PLM DocTrak Project. Flawless! He loved it.
DataLyzer. Elegant, precise solution! Engineers praised it. Ended their animosity toward IT group.
Production Servers. No more slowdowns or gridlock. Harmonious! Scott Kreider and company teams applauded.
Syteline8. Working smoothly. Company satisfied! Frustration ended.
Styeline9 Migration. Convinced SR management to take the leap. Left them with solid Vanilla core. Outstanding!
BI Reporting. Concise, relevant and accurate. Staff pleased and more productive!


My commentary stands up to callous company leaders who needlessly and unjustly hurt some 16 families this holiday season. If there are modifications I can make to satisfy you, please let me know.
Stephen refused to respond and also continues the Silent Treatment. This is typical in New Mexico. As I point out in this summary, my senior female coworker refused to respond when our team hit a snag. The HR Director ordered the CEO and COO not to respond to my emails regarding my termination. New Mexico has a passive-aggressive culture fueled by retaliation and corruption. This is one reason the state ranks 46th out of 50: 48th in Education; 49th in Crime; 46th in Opportunity; 47th in Economy; 43rd in Government. Weak, fearful leaders and a risk-adverse population. The unemployment rate in the state is second only to Alaska.

Reminds me of a project I worked on with Rosario for an outstanding manager, Rick Bishop. Rosario always called him, "Mr. Bishop" — athough he asked her politely to call him by his first name. This signifies the Hierachical nature of her personality. This is common for a Catholic, Mexican-American female. God sits at the top of their patriarchal society. Men should be served reverently. She could not see herself as an intellectual and professional equal.

Working on my PhD at the University of New Mexico, I focused on Cultural Theory of Risk by anthropologist, Mary Douglas, and political scientist, Aaron Wildavsky. New Mexico is a highly "risk-averse" state. Peoople ask me why the Land of Enchantment struggles to create jobs, attract new business and retain talent. Neighboring Colorado, for example, has a more "risk-taking" culture. The state took the opportunity to experiment with the GREEN Gold Rush of cannabis legalization. New Mexico governor, Susana Martinez, another Catholic, Hispanic female, cannot summon the courage to move the state forward. Washington state, Oregon, California, Alaska, Nevada are similar to Colorado in "risk-taking" attitude. People have a bold, entrepreneurial spirit. New Mexico instead has a culture of CONTROL. SolAreo Technologies HR Director, Silvia Gentile, a female Hispanic, would be characterized this way. She wasn't interested in creativity or production — solely whether staff would "kiss her ass." This isn't about sex — it's about POWER.

Manager Bishop came to Rosario and me for a specialized analysis. He wanted to know how long it took a product to move start to finish through the manufacturing process — the fab, as it's called within the company. As Rosario understood the SQL data flow better than I, she prepared the initial query. I created the report and subsequent analysis. Unfortunately, she did her portion incorrectly. Her adversion to taking risk caused the error.

Rosario is a computer programmer; I'm a researcher. She is hierarchical. I'm an independent thinker. Manager Bishop asked for the "age" of a product from A to B. She gave him exactly what he wanted. Yet Manager Bishop didn't understand the SQL data flow. He had no way to know the model he described was under specified — a causal model in which important variables have been omitted. A researcher, on the other hand, has an ethical responsibility to fully specify the data model. As we say, "Garbage in; garbage out." The SQL data flow didn't progress from A to B. Instead, it moved from A to B to C to D. I showed this to Rosario. It upset and confused her. Her internal programming allowed her to consider only that which had been requested.

This was the first break in our intellectual relationship. It caused her considerable cognitive dissonance. I told her, "Our job isn't to give clients what they want; we must give them what they need." To her such an attitude was insubordinate. From my point of view, her refusal to properly specify the model was professional negligence. Giving a manager "under specified data" could lead to an industrial accident. It could cost coworkers jobs or the company profits. And, as SolAero Technologies has five nuclear reactors on property along with vast quantities of toxic chemicals, inaccurate data could cause an environmental disaster. As a risk-adverse, hierarchical programmer, she was unable to grasp the consequences of her fearful and overly-compliant behavior.

After significant coaxing, I was able to convince Rosario we had a professional duty to report my findings to Manager Bishop. Of course, he was delighted to learn the news. General Manager, Jerry Winton, taught us, "Better right than fast." We didn't give Manager Bishop what he wanted; we gave him more. This is why companies should hire researchers rather than myopic programmers. This is also why risk-adverse HR Directors should not make personnel decisions for a growth company.

Ingenuity and discovery do not occur in a tightly controlled, oppressive environment. Apple Founders, Steve Jobs and Steve Wozniak, had to work in their garage to find a creative environment. Bill Bowerman and Phil Knight followed a similar pattern to create Nike. Our new IT manager, Tom Hensley, seemed to grasp this critical point. His first group activity had us watch an inspirational video by Dewitt Jones, Celebrate! Change Your Lens, Change Your Life. This reflects the bipolar nature of the company. Innovative managers know this secret. Senior management is consumed by fear. And, this is exactly why SolAero Technologies and New Mexico are faltering — too much fear; too much concern about petty control.
---
UPDATE 12.28.17: As I look back on 2017, what a successful — yet painful year. Starting in January, SolAero Technologies tasked me to team with a senior female analyst. We fit intellectually and in skill set. She was more operational; I'm a BigPicture thinker. Together we attacked a huge pile of assignments and accomplished Rock Star performance for the company. Unfortunately, her personal problems wrecked our team. I tried to get her to talk about it. She refused. I asked her to meet with a trusted third party. Refused. She never apologized for her behavior and created a hostile work environment. As I was new, the company released me rather than deal with the senior employee's unprofessional behavior. My MeanGirl coworker avoided me and never interacted with me again.

I specialize in building teams. The photo below features the Chinese Olympic Volleyball Team. We earned the Silver Medal. SolAero Technologies HR Director, Silvia Gentile, knows nothing of team work. She prepares bureaucratic paperwork and functions as the "proper attire" police for a group of engineers. My female analyst never played on a team. When demands were difficult and challenging, she quit. The women I coached are champions. Together, we sweated; we argued and fought occasionally; we strove for victory. On the court, we functioned as one. Many companies request "team players" in job postings. Few understand team dynamics. What they really seek is someone who will do all the work for little pay or recognition. This isn't team work. SolAero Technologies does not recruit, reward or nuture team players — instead, they destroy them!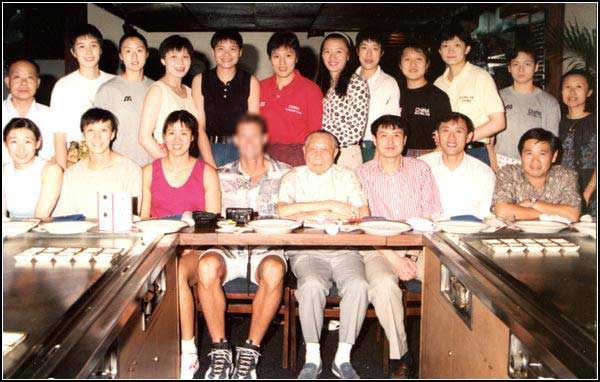 China Olympic Volleyball Team: Silver Medalists
It takes a special kind of sick, evil person to mess with another person's job. Maria Rosario Gonzales (Velasquez) slightly edged out Donald Trump as the Meanest Person of 2017. I've adapted a short story from Sarah Charley at TinyBuddha that illustrates my frustration for trying to help this troubled woman. Big mistake!
I've always tried to distance myself from people who are rude, overly aggressive and mean. But sometimes we become tied to people who might not have our best interests at heart. Last year SolAero Technologies assigned me to partner with a coworker who was at a bad spot in her life. I thought I could help her through this tough time, but just like a swimmer drowning in a pool, she grabbed on and ended up drowning me when I reached out and tried to save her.

She couldn't recognize that her actions were causing me pain, even when I directly laid it out in front of her. I even used examples from my life of things that had hurt me and then tried to make the comparison that the same things she was doing also hurt me. She never apologized, and continued the mindset that I deserved to be treated this way, and that I was the one at fault. I made the mistake of thinking I could change her with compassion, patience and understanding. I finally realized that sometimes people are just mean — and there is absolutely nothing you can do about it.
Life Becomes Easier When You Learn to Accept an Apology You Never Got
~Robert Brault
---
UPDATE 12.25.17: About a year ago, my hiring manager, Stephen Bradley, warned me that my senior coworker, Maria Rosario Gonzales (Velasquez), was frustrated and vulnerable. She was divorcing her husband and struggling with some personal issues. He asked me to watch over her and take extra special care of her. Yes, I'm a fool. I'm compassionate and kind. I listened to him. As a new, single mother, I assumed she would be in a lonely place. With Christmas approaching, I new she liked music and noticed a WiFi stereo system on her Santa's Wish List. This would allow her to stream music from her phone to the stereo. Maybe this would bring some happiness to her and her six-year-old son, Octavio. Family breakups are always difficult on the children. Merry Christmas! I surprised both with a Sony for 2017.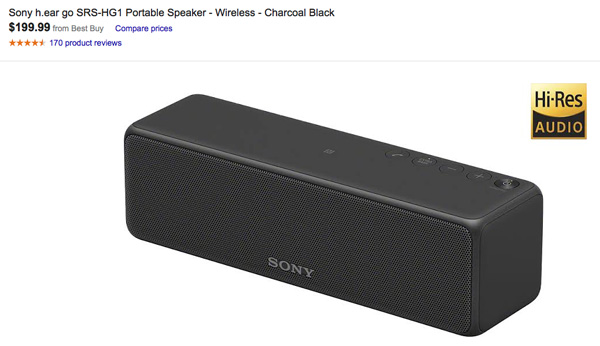 Christmas Present 2016 — Sony Portable WiFi for Rosario
This is one reason women will never achieve equality to men. If a woman is sad and vulnerable, society demands people come to their rescue — and women happily accept this support. If a man is vulnerable, society considers him to be weak and unstable. He likely will lose his job. Rosario spent many days crying at her desk. How would my manager or HR Director have reacted had they seen me crying at my desk? When I was distressed, I tried to get help from the HR Director. It was October 3rd. Silvia Gentile told me my job was secure and I could confide in her. I trusted her. Big mistake!!! Two weeks later she seemed to enjoy firing me.
The Reason for the Season is to honor the birth of Jesus: He speaks to everyone who is on the run, to all refugees, to the poor, for those who are excluded because there is "no room at the inn."
I didn't enjoy my seating assignment in the IT area. Noboby wanted to sit in this location. It was cold and isolated. I didn't complain. I didn't cry. As men know, sometimes we have to suffer uncomfortable conditions at work. Most of us try make the best of difficult challenges. The company treated Rosario differently. My manager, Tom Hensley, told me a couple times he wouldn't ask Rosario to sit back there. "It's too dark and cold for her," he reported. Women get preferential treatment in society today. And, strangely, my psycho freak coworker kept poking at me to move. This is a text conversation from Saturday, September 16th, around 5pm. Rosario claimed I wasn't a "good team player" because I had "my own island." It wasn't up to me. Our manager assigned me to the spot and I respectfully did as I was told. She didn't want to trade with me. She just caused trouble for me!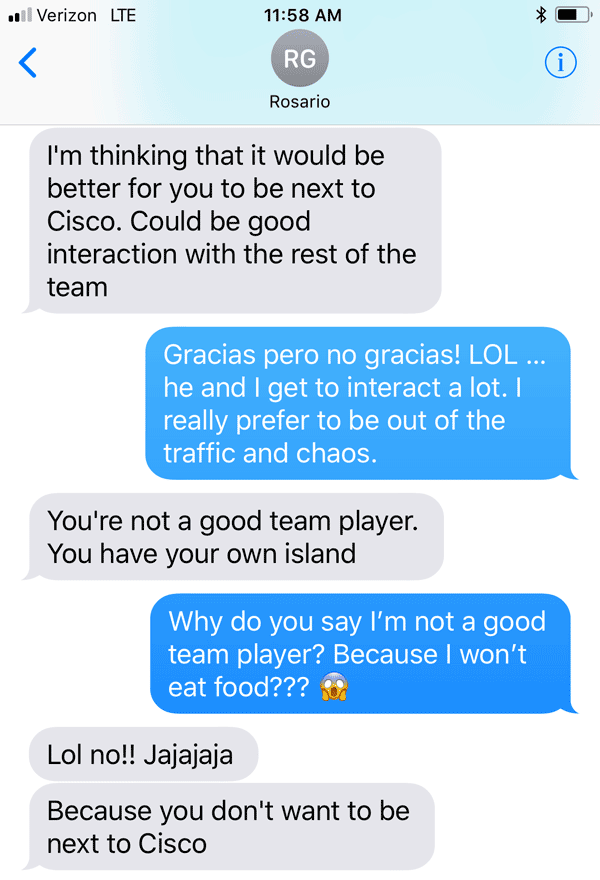 Rosario: You're Not a "Good Team Player" for Doing What Manager Instructed
For doing what my manager asked me to do — with a smile on my face and a positive attitude — my senior, female coworker punished me. She sabotaged my career and caused me to lose my job. Merry Christmas, Maria Rosario Gonzales (Velasquez). Enjoy beautiful music on the high-quality stereo I bought you. Due to you there's no room at the inn and not much joy in our household this year. I know my other coworkers and their families who are suffering being laid off feel the same way.
---
UPDATE 12.22.17: This has been the most unprofessional experience I have suffered in my life. Dozens of managers must be laughing hysterically at the irony of this situation. For over ten years I successfully defended and protected women in the workplace. I came to SolAero Technologies to escape the labor wars. Two Mean Girls, HR Director, Silvia Gentile, and my supervisor/trainer, Maria Rosario Gonzales (Velasquez), ended my career with the space solar cell manufacturer. Was I not popular enough? Was I punished for refusing to eat their sugary snacks? Ms. Rosario abandonned her loving husband after twenty years of marriage. She spent the final weeks of my tenure with the company crying at her desk. I tried to support her. She said the pain was unbearable. I was truly concerned about her. Was she seeking a romantic relationship with me? This situation simply does not add up!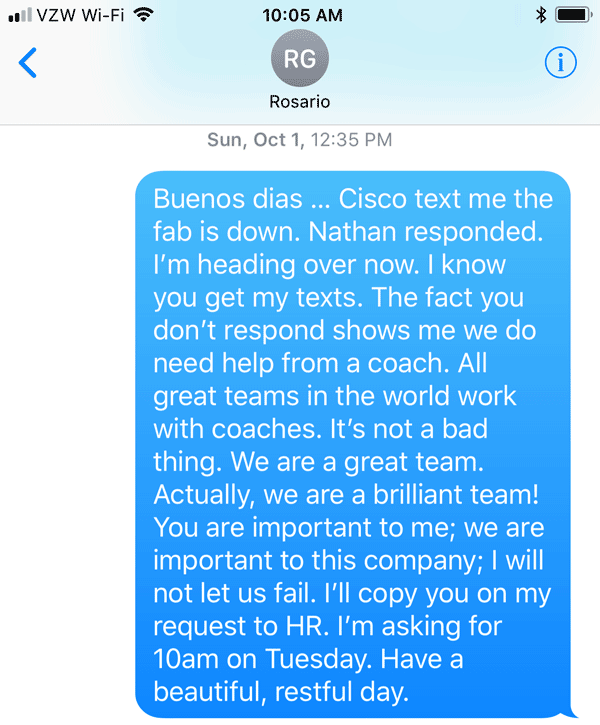 Maria Rosario Gonzales (Velasquez) Refuses to Talk With Me
Ms. Rosario refused to talk with me or meet with HR about her issues. She dumped me as she had deserted her husband, three boys and extended family. Her action was personal. My work performance was stellar. SolAero Technologies management responded in an unethical manner. They were untruthful and not professional. In the dismissal letter Silvia Gentile handed to some 16 SolAero Technology employees on October 19, 2017, she wrote, "Because of economic and business conditions as well as our intent on being cash flow positive," you are being eliminated. It's clear business and economic conditions in America are excellent. Gentile and SR managers put "cash flow" above the lives of human beings. People in the northern hemisphere just passed the Darkest, Longest Night of the Year. Due to poor planning and shortsighted decision-making by management, loyal, competent and committed employees, including their families, remain in depressed conditions. Hundreds, if not thousands, of SolAero Technology employees from California offices suffer similar economic and professional humiliation.
---
UPDATE 12.18.17: Mitch Prinstein recently published a social commentary about professional life in America. "If your workplace sometimes feels like you're reliving high school, that's because you are," he wrote. Prinstein is an adolescent psychology professor at the University of North Carolina and author of the book Popular: The Power of Likability in a Status-Obsessed World. What makes Popular fascinating is not necessarily that central thesis, which will likely feel familiar to people far beyond Yale's ivy-covered walls. It is, rather, the depth with which Prinstein explains the world in its perma-Mean Girls ways.

Wow! This is a book I need to read. The culture at SolAero Technologies certainly left me feeling like I was reliving high school. Unfortunately, I ended up in the other side of the lunch room from a couple Mean Girls. Prinstein sums it up, "Popularity is much like class in America: It divides people. It defines people." Focusing on how to improve the efficiency of our space solar cells was far less important than forming "popularity" cliques at SolAero Technologies. I had a strong relationship with my coworker, Maria Rosario Gonzales (Velasquez), for about ten months. She participated in my hire; served as my supervisor, trainer and senior mentor. Mid-September she sent me this text to celebrate my birthday: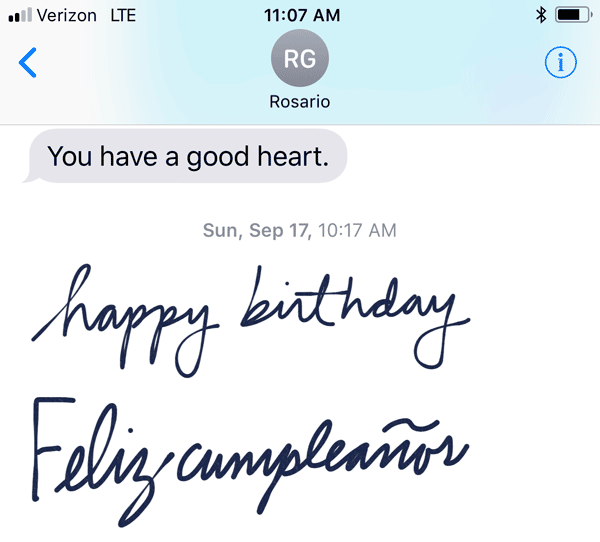 Two weeks later, I was in her dog house. Have no idea why; have no idea what I might have done. Maybe it wasn't me at all. Rosario was struggling in her personal life. Her husband was angry with her; her boys were upset with her; her extended family had expelled her. She told me the pain was unbearable. Maybe she was suffering "toxic PMS." For nearly a year, I had tried to support and reassure her. Yet my supervisor told me Popularity Queen Rosario was "mad at me." Why? "Don't know!" Rosario refused my every request to try and smooth it out. My senior coworker had become my worst nightmare, as she appeared to sabotage my career. Her Mean Girl partner, HR Director, Silvia Gentile, thought the situation was funny. She definitely had a high school reaction to this ominous dynamic.

"In a very real manner," Prinstein claims, "our experiences with popularity are always occupying our minds. The problem is, we left high school long ago — and our brains never got the memo." The other problem? "We are, as a culture, extremely reluctant to talk about any of that."
I'm not participating on this meeting. I don't want to be wasting others people time just because you and I don't know how to communicate well. I think I can easily fix this problem by sending you all my communications via email. This way you have detail information and we avoid misunderstandings.

No need for therapy time, I'm here to produce and get the job done.

Thanks,
Maria Rosario Gonzales (Velasquez)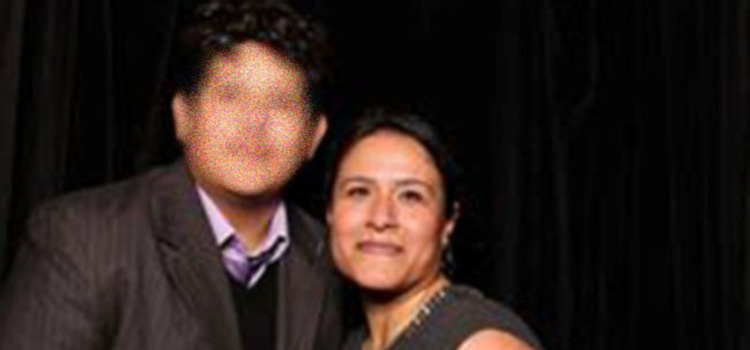 11th Grade Popularity Queen — Maria Rosario Gonzalez (Velasquez)
I was raised differently. I wasn't popular in high school. I don't aspire to be popular today. My family groomed me to be a "leader." I believe this highlights a major difference how families raise boys and girls. Parents expect boys to develop into leaders. Thus, likeability is not stressed as greatly as earning respect. My coworker, Rosario Gonzales, shunned leadership. Although I encouraged her, she feared the pressure. Instead, she wanted to be liked and seemed upset with me for preferring to earn respect over simply seeking to be liked. More women in management positions today create tension in this area. They prefer "likeability" in employees; they do not understand the requirements on leaders. CEO Brad Clevenger nurtured this. In our first meeting, he shook my hand and applauded my BOLD efforts. Yet bold employees must be protected. They take risk by sticking their neck out. SolAero Technologies failed to support my bold action. Mark Suster writes, "Great Leaders Are Respected, Not Loved." He adds:
It's nice to be liked. Early in life, it's the best social currency for collaborating with others. If people don't like you, they won't invite you to their birthday parties. As you progress and enter the productive world being liked is still nice, but it fades further into the background as the primary metric for who will collaborate with you. It gets overshadowed in importance by being respected.
Ed Sheeran says, "I can't tell you the key to success, but the key to failure is trying to please everyone." I earned respect at SolAero Technologies. I made many friends who liked me as well. Yet for TWO women, popularity was more important than earning respect or being productive.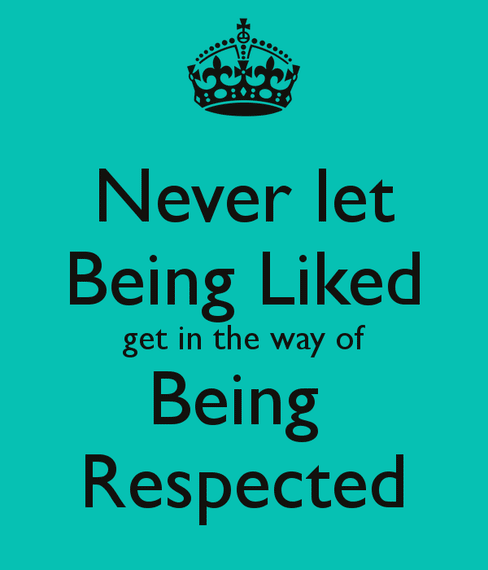 Unfortunately, at SolAero Technologies — Adolescence.Lasts.Forever.
SolAero Technologies: Culture of Quitters
UPDATE 12.23.17: Space Exploration Technologies Corp., doing business as SpaceX, is an American aerospace manufacturer and space transport services company headquartered in Hawthorne, California. Founded in 2002 by entrepreneur Elon Musk with the goal of reducing space transportation costs and enabling the colonization of Mars, Musk's SpaceX Falcon 9 rocket launched into space from California's Vandenberg Air on December 22nd at 5:27 p.m. PST — just 30 minutes after sunset — carrying 10 Iridium® Next communications satellites into orbit. [Iridium Press Kit Information] The project competes with SolAero Technologies, OneWeb satellite constellation, which is a proposed constellation of approximately 648 satellites expected to provide global Internet broadband service to individual consumers as early as 2019. SolAero Technologies prepares to supply solar panels for the OneWeb project.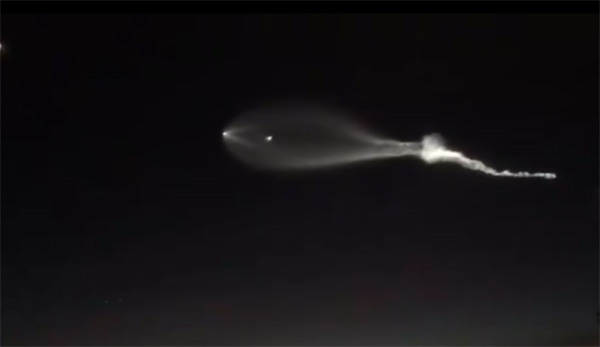 SpaceX Falcon 9 rocket Launched from California's Vandenberg Air
SpaceX's Falcon 9 rocket plans to deliver 10 satellites to low-Earth orbit for Iridium, a global leader in mobile voice and data satellite communications. This is the fourth set of 10 satellites in a series of 75 total satellites that SpaceX will launch for Iridium's next generation global satellite constellation, Iridium® NEXT. The mission was a success, with all 10 satellites reaching their intended orbits. But it was the jaw-dropping views of the Falcon 9 streaking into space that stole the show, leaving an ethereal glowing plume in its wake as it soared into orbit (pictured above).
---
UPDATE 12.22.17: SolAero Technologies offered about $3,800 to keep my mouth shut and go away quietly. Fuck them! This Christmas will be a bitter one for the 16 families they cheated. The company provides essential components for national defense and civilian programs. Society has a right to expect better performance from this callous company. I politely declined their offer and submitted a counter proposal. Company representatives did not respond. [Separation Agreement and General Release]
AT&T Lays Off Hundreds of Employees Just Before Christmas in Five States
This Christmas will be a bitter one for AT&T employees who are finding themselves without a job. AT&T announced layoff's affecting people in five states, including Missouri. Just days before Christmas, hundreds of people in the metro found out they will be out of jobs come Jan. 4.

On Thursday, leaders of the Local 6360 Union held a meeting to offer help and share resources with workers who have been laid off. The meeting falls on the same night AT&T reported $1,000 bonuses for more than 200,000 U.S. employees in response to the GOP Tax Plan passing. Those recently notified of these job cuts say the bonuses seem like a slap in the face.

"How can you lay people off and then give them $1,000 and say that there's going to be more jobs available? I wish someone could tell me how that's possible because I have to explain that to my members, and right now at this time of year, this is a difficult pill to swallow," said Joseph Blanco, president of Local 6360 Communication Workers of America Union.
I remember when I first joined the SolAero Technologies team. I'm a space nut and working on solar cells for space capitvated me. Most employees feel this way. Management is somewhat arrogant due to this. Few people have an opportunity to work in the space & defense industry. Company products are definitely a conversation starter. Unfortunately, CEO Brad Clevenger, COO Jeffrey Lassiter, HR Director Gentile, and my supervisor/trainer Maria Rosario Gonzales (Velasquez) are confused and fearful people. My original hiring manager, Stephen Bradley, was also unable to handle the pressure of big time manufacturing. Bradley let me know recently he "blacklisted" me for airing these grievances. This is why the #MeToo Women suffered in silence. Protest must remain anonymous.

I really looked up to Bradley. He's definitely a bright guy. Told me he was frustrated being forced to work some 80 hours a week frequently. Interesting comment! He partnered primarily with Rosario. He had over five years experience; she about 3.5. When he departed, I had to fill the void he created. I never worked 80 hours a week; neither did Rosario. Not sure why he claimed to be so busy. In fact he left me quite a mess. All production servers were performing sluggishly and suffering gridlocks. I needed to made hardware changes. Queries and processes were not optimized. SQL Servers were unbalanced and in need of tuning. The Syteline8 application was riddled with bugs and he failed to convince management about the requirement to upgrade. He purchased server equipment for about $50,000, yet it remained boxed. It's poor management to buy hardware and not deploy it immediately. In two years there are new generations available. This equipment probably remained in boxes longer than this.

Rosario focused on Syteline debugging. I pulled the data centers together. We generally worked 40-50 hours per week. We had our hands full, but never understood why he melted down. Our burden would have been easily managed had he stayed. This is simply an example of inexperienced management. Fear and panic rather than a measured march forward. I pointed this out to Rosario a couple times ... sometimes, people give up just when they're at the door of success. Never quit!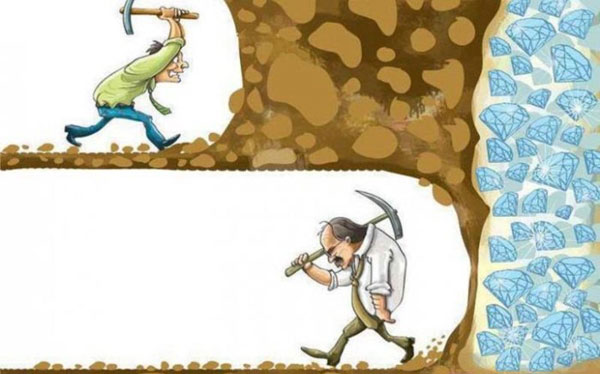 Never Quit!
We're all aware how manufacturing jobs have disappeared across America. This hits management ranks hardest. My first CFO, Phyllis Sullivan, was stung by SolAero Technologies as well. I watched her in action last spring with a group of top managers. They were presenting findings and summarizing progress. She peppered them liked a skilled prosecutor. She knew her stuff and set high expectations. Very impressed! Although I was a newbie, I organized a presentation for management regarding the migration to Syteline9. Stephen Bradley had missed this. My senior partner, Rosario, was aware of the issue but was too fearful to speak up. This is the culture of fear at SolAero Technologies!

Fascinating experience! I had been there only months and I sat before ALL top level managers. My IT Director, Eric Kuecherer, apparently was unaware of the issue. Syteline was the company's ERP software — the backbone of the financial and inventory systems. People had been using this for five to ten years! How were they not up to speed? I had briefed most of the team previously. Confusion reigned! On the other hand, it took Phyllis only seconds to reach a decision. "Do It ... and Let's Do It Now!" Insightful.Bold.Correct — she was gone shortly afterward. We spoke. Her tears said it all.

Some will say I'm a disgruntled employee. Thank you! Disgruntled settlers dumped tea into the Boston Harbor rather than pay taxes to King George without representation. Disgruntled citizens stood up and fought against slavery. They battled to earn women the vote. They ended Jim Crow and passed Civil Rights legislation. They created unions and established the 40-hour work week, sick leave, workplace safety, and opportunities for women and People of Color. Go ahead, call me disgruntled. I'm an American Patriot!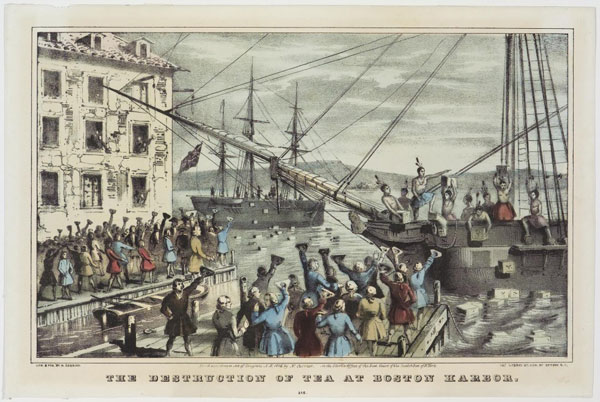 Destruction of Tea at Boston Harbor
---
UPDATE 12.13.17: Reached out today to my original hiring manager, Stephen Bradley. He had mentioned he might have a position opening mid-December. He answered:
Due to the website wattsupsolaerotech.com, I don't feel comfortable continuing a professional relationship with you. I wish you well, but cannot condone or endorse these actions.
This is why the #MeToo movement is so important in America. I assume my senior mentor, Rosario Gonzales, shared my story with Stephen. "Look what this asshole said about me," she likely reported. And, how did Bradley respond? "I'll fix him. We'll blackball him from the industry. No job for him!" Anyone who stands up to injustice in the workplace is banned or barred from future employment. This is why WOMEN have suffered in silence for decades. Shame on people like Stephen and Rosario. I responded to Stephen:
You hired me then resigned in anger and frustration leaving me in a difficult situation. I respected your protest. This is my protest. Didn't ask you to endorse anything. You should respect my efforts to bring needed change. I respected you.
Stephen hired me but then announced he was departing a couple weeks later. Rosario shrieked when he told us, "You can't quit. You said I couldn't quit!" She didn't accept giving up at that time. It's another example of the quitting culture at SolAero Technologies. Stephen told us he hoped his "resignation in protest" would help us get the additional staff and attention from SR management we needed. I never felt SR management supported our group professionally. Our IT Director was consumed with his duties in California. It was months before the company hired a new manager and it takes about a year to get someone up to speed. Without proper supervision, IT staff were forced into unnatural and complex roles.

I really liked Stephen — extremely bright, talented guy! I was excited to work with him. I tried to convince him to change his mind. Most of his duties fell to Rosario and I. We eventually tamed the mountain of work, but our situation would have been less stressful had he stayed. Stephen told me many times he regretted not being able to serve in the military — due to medical limitations. Service would have been good for him. It teaches leaders to never leave their team. SolAero Technologies was stupid to let him go. It was juvenile for Stephen to abandon us!

The last time I had contacted Stephen was October 2nd. My Spidey Sensors were screaming that something was wrong.
Hello my friend. Hope you're doing well. SolAero has changed dramatically. Many new consultants and managers. Going in different direction. Kind of crazy. You looking for additional staff?
Stephen responded, "Wow, things going crazy over there huh?"
Since I've been here turnover has been maddening. People are great. We're successful overall but the company is constantly shifting and that is chaotic. Probably normal for growth company, but I feel lost.
Stephen asked, "Did your team change or is it just the overall atmosphere?"
Have learned a lot. Core team in IT same. New manager. Nice guy but doesn't "touch keys" as he says. Not a teacher or partner. Meets with upper management primarily.
Stephen's response, "Wow, lame. I'll let you know for sure when I have a posting. Hang in there."

We were excited when our new manager, Tom Hensley, arrived. Our IT group had over 500 outstanding tickets to fix and complete. We were swamped. When he said, "I don't touch keys," we were deflated. It's like working with a team to replace a home's grass with rock — xeriscape the yard. You and your coworker have a huge pile of rock to move. The manager watches but does not pick up a shovel to assist. Yes, as Stephen said, "That's lame!"

Mr. Bradley, you protested your way — criticizing SR management as you walked out the door. This is my way. I'm not a quitter. I stayed and battled each day to make it a better company. I didn't desert SolAero Technologies as you did. But all of you quit on me!
---
UPDATE 12.4.17: Ran into a former coworker this weekend. "How's it going at SolAero?" he asked. They laid me off. "NO!!! I heard something about that. Many employees I heard. You're such a great guy. You did excellent work. I was really concerned about management. Seemed confused. Saw a couple red flags there. Happy I found another place at this time. Really sorry to hear. You're a good person and you'll find something better."
SolAero Technologies Abandons 16 Albuquerque Families for Christmas and Holiday Season
SolAero Technologies CEO and president, Brad Clevenger (below), proudly accepted public congratulations, praise and funding from New Mexico governor, Susana Martinez, Albuquerque mayor, Richard Berry, and other leaders in the business communmity for company plans to hire additional employees in 2017 and 2018. CEO Brad holds a PhD in Chemistry from the University of Texas at Austin and a Bachelor of Science degree from the University of Florida. He has published over 50 journal articles and holds four U.S. patents. Yet on October 19th, CEO Brad and SolAero Technologies senior management were complicit in abandonning 16 local families. CEO Brad knows chemistry; he's skilled writing articles; he quits on People!

SolAero Technologies CEO Brad Clevenger: Culture of Quitters
My coworker, Frank, had been part of the team for over 18 years. He didn't give up on SolAero Technologies. CEO Brad quit on him. Cathy had served the company over 10 years. She didn't let down SolAero Technologies; CEO Brad quit on her. Happy Holidays — here's your pink slip. Losing a job ranks No. 8 on the Holmes-Rahe stress inventory — not far behind the death of a spouse or going to jail. CEO Brad accepted the public kudos, as well as some $200,000 in public grants, yet cheated competent employees.
EMCORE Corporation was founded in 1984 and headquartered in Alhambra, California. Albuquerque-based SolAero Technologies was born around September 17, 2014, due to a $150 million investment by Vertias Capital, to continue the solar space power division of EMCORE. Since that time, senior management at SolAero Technologies has been confused, chaotic and callous. There have been numerous layoffs, as leaders deserted skilled staff.
CEO Brad introduced himself to me in February 2017 — about the time SolAero Technologies made headlines for launching a $10M expansion in the Albuquerque area and promising "at least 80 new high-tech solar jobs." I had dazzled him with an internal memo titled, "The Three Cs of Leadership: Command, Control and Communication." He shook my hand and urged me to continue my BOLD leadership. Yet CEO Brad was neither bold nor courageous when it came to supporting SolAero Technologies staff in return. I managed "mission critical" projects and earned my compensation. Our IT team remained understaffed and overwhelmed when CEO Brad kicked me under the bus and into the unemployment line. I met COO Jeffrey Lassiter shortly after my improptu session with CEO Brad. He asked me to "fill shoes two sizes too big." I did — competently! Yet COO Jeff's courage to support dedicated employees didn't fill shoes two size larger. COO Jeff is a wimp when it comes to caring for committed, talented staff.
Quitting On Employees Dominates Culture at SolAero Technologies
The SolAero Technologies, Quitting on Employees, culture includes HR Director, Silvia Gentile, as well as my senior adviser, Maria Rosario Gonzalez (Velasquez). She participated in hiring me. She selected me to team with her specifically in the Business Intelligence (BI) group. She served as my supervisor, trainer and senior work partner. I looked forward to partnering with her each day. She was a company Rock Star and I aspired to be like her. She suffered difficult personal challenges during our year together and SolAero Technologies placed massive demands on her. I did everything I could to support her. For some reason, she gave up on me. One day she was happy with me; the next she was angry. Was it her personal life? Was it something I did? She wouldn't talk to me about it. She wouldn't meet with a mediator or other professional. She just quit on me! To this day, Maria Rosario Gonzalez (Velasquez) has never explained her behavior or apologized for treating me unprofessionally. Due to her silence, I tell my story. Costing another person their job due to a personal matter is unethical and unacceptable.
For over nine months, Maria Rosario Gonzalez (Velasquez) and I had a strong, positive relationship. She inspired me. I motivated her. "Side by side," she wanted. Frustrated, isolated and working alone, she sought a partner. We became a Dynamic Duo. She was Batman; I, Robin. We spit, shook hands, and exchanged decoder rings. We killed it and management noticed. Our GM said when departing, "You and Rosario will continue to do amazing things there." In mid-September 2017, her behavior toward me was pleasant and professional. She warmly wished me, Feliz cumpleaños. Her birthday was a week later. I gave her a card and our group sang Happy Birthday to her. Days later, she became angry and hostile toward me. She refused to seek help or mediation. Rosario had quit on me. Speaking with the HR Director on October 3rd, I explained her perturbing attitude toward me. As Rosario served as my trainer, I feared I would lose my job. Silvia Gentile assured me the company loved my work and planned on keeping me a long time. On October 19th, SolAero Technologies terminated my employment.
It's nearly impossible today to turn on TV or read online news and not hear horror stories told by victims of inappropriate activity in the workplace. Sometimes for decades, employees have suffered in silence as powerful coworkers FORCED them to tolerate unwanted behavior. Why didn't these victims speak up? There is ONE common theme — they didn't want to lose their job or frustrate their career. They suffered terrible crimes in silence. This is how important a job is to people.

Hannah, a woman who survived the mass shooting in Las Vegas, wrote recently in HuffPost, "In many ways I feel like every bullet that didn't physically hit me, because none of them did, all hit me mentally and emotionally. If you could do a fictitious scan of my head, it would look like Swiss cheese, because they all went through me on some level."

Bullets from Maria Rosario Gonzalez (Velasquez) ripped through me mentally and emotionally. My head and soul were Swiss cheese. This is how important my job was to me.
Maria Rosario Gonzalez (Velasquez) is a quitter. DEFINED: a person who gives up easily or does not have the courage or determination to finish a task. The warning signs were there. Just as society wonders how they missed seeing the symptoms of a sick, deranged mass shooter, I missed signs telling me Rosario was a deserter. About two weeks after joining SolAero Technologies, my hiring manager called us to a meeting, "I'm fed up with senior management. I cannot continue working 80 hours per week and I've accepted another position." Rosario blurted out, "You can't leave. You told me I couldn't quit." Tip #1: Rosario was willing to quit. The manager was carrying her.
After working with Rosario for a couple months, she had grown to treasure me. "You're fearless," she confided. She's correct. I'm a person with much courage. None would call me a quitter. I told Rosario about a woman who reminded me of her. Jenny had earned five gold medals as a professional athlete. She was offered a head coaching position for an Olympic team. "I'm not good enough," she told me. Jenny had never been a head coach and Olympic pressure was intense. I knew great coaches. I recognized Jenny as a Diamond in the Rough. She could be the best; just as I knew Rosario could be the best. "You're too confident," Jenny chided. "You are the best coach in the world; you have the best team. We will win gold," I said courageously. Jenny believed in me. We were ranked 10th in the world when we started. We played for Olympic gold two years later. Yes, Rosario reminded me of Jenny. Big difference though. Jenny isn't a quitter. She finally earned Olympic gold as a head coach in 2016. Rosario gave up!
Rosario initially believed in me. This explains why I had enchanted her. She divulged one day, "I'm divorcing my husband." I asked if he had been a bad husband. No. Abusive? No. Mean to your boys? No. "He's a good father," she said. There was no specific reason. Tip #2: After more than 20 years of marriage successfully raising three boys, she deserted her man. She quit on her boys and abandoned her family. SolAero Technologies kept Rosario and cast me aside. Senior management frequently quits on employees. This also explains why CEO Brad Clevenger was awestruck by me initially. My courageous character fascinated him — just as my Gold Medal attitude had transfixed Rosario. Neither are courageous enough to play with a bold person like me though. Maria Rosario Gonzalez (Velasquez) and Brad Clevenger are quitters.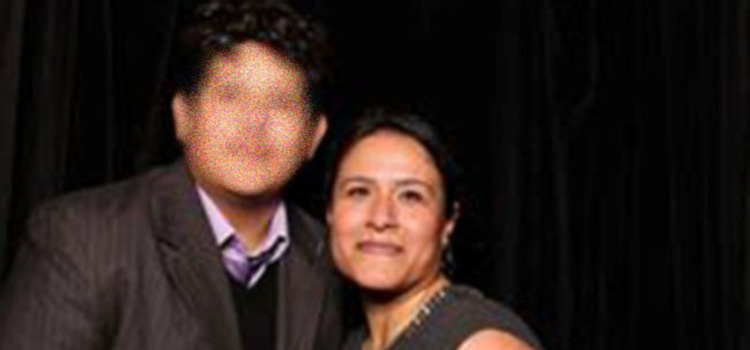 Senior Datawarehouse Analyst Maria Rosario Gonzalez (Velasquez)
Maria Rosario Gonzalez (Velasquez) ripped our team apart. She cheated me. Why? Lied to me. Why? Maria Rosario Gonzalez (Velasquez) cost me my job. Why? What explains such bizarre behavior? My supervisor, trainer, senior partner was emotionally blackmailing me! She placed her personal feelings before our professional responsibilities. SolAero Technologies assigned us to fix a system in shambles. Rosario broke down frequently at first. She wanted to give up. I refused. "You see this hand?" I asked one day. "I'm a nobody, but this hand outplayed Michael Jordan." I have a history of refusing to give up and earned a spot on the scrimmage team that prepared USA Men's Basketball team for the Olympics. I played phenomenal that week. "If you're going to quit, then quit. Have the courage to walk away. Yet if you want to win, take my hand. Shake this hand that bested Jordan," I teased. "We have the talent. It's all about believing in OUR team now." I extended my hand. She shook the hand that "schooled Jordan." We promised never to mention quitting again and agreed to partner for five years.
Together, we tore into our assignments courageously. Coworkers teased us for putting in so many long days. Her close coworker and friend, Cynthia Ponce, first referred to Rosario as my "work wife." We all laughed. The chemisty between us was infectious. We were motivated and were inspiring others. Part of my duties included backing up Rosario when she was absent. Chief Technology Officer, Paul Sharps, praised my skill mending his broken PR in early 2017. "Learning Syteline is so tribal," he said in frustration. There weren't manuals for most of our work. We learned from each other. Teamwork was critical and Rosario told me she was an "All or nothing person." On about September 16th, she wrote to me, "Well, the work wife is selfish and likes not sharing." Rosario's coded message to me, "Quit on your wife or I will quit on you!"
Consider this: inadvertantly or intentionally, you offend another party. You email them. No response. You email them again. No response. If the party is truly offended, most will respond by saying, "Stop contacting me." Although Rosario acted as if I had upset her, she didn't demand I stop contacting her. She loved watching me squirm and hurt. She had power over me. I was junior; she was senior. Without her, no training; no growth. She took pleasure listening to me try to rebuild our team. My mother was passive aggressive this way. She would punish my father for days — sometimes weeks. Rosario was behaving this way. I pleaded with her to stop. I told her I hoped she didn't treat her beautiful boys this way. Such pain! Rosario refused to answer — just like an 11th Grade girl in high school. I was trying to take SolAero Technologies to Mars and my childish coworker simply wanted me to force me to take her to Winter Ball.
Rosario stopped communicating with me about September 29th. Albuquerque Police had to direct her on November 22nd to tell me to stop reaching out to her — nearly two months later.
NOTE: Nobody from SolAero Technologies asked me to cease communicating with senior management or employees prior to this date. They are complicit in fraud and corruption. They have callously terminated quality and competent employees. They hoped I would go away. As the historic patriot and US Naval Commander, John Paul Jones, remarked, "I have not yet begun to fight!"
A person truly angry with another party does not act this way. A person scheming to manipulate and punish acts this way. Maria Rosario Gonzalez (Velasquez) acted this way. She failed at her repeated attempts to force me to eat her mom's coffee cake; failed her attempts to make me eat her chocolate delights or breakfast bagels. How many times does a guy have to say, "No!" Sugar can leave me mangry so I don't eat sweet treats at work. Rosario knew this. She wanted to exercise her POWER over me. Rosario had an agenda and her objective appeared focused on forcing me to discard my wife.
Seating Arrangement Complicates Work Effectiveness
Rosario mentioned a number of times she didn't like our group's seating arrangement. She became brutally angry with me in June when she thought I said I didn't want to share an office with her. "You don't like me; you don't want to work with me," she cried. I simply thought the small office was too crowded for us due to all the client traffic we faced each day. I proposed we use a larger area. Rosario told me frequently she didn't like me in the back area by myself. She felt I was isolated and missing out on important information. I agreed with her. We suffered a minor communication breakdown — she instructed a coworker to do one thing; I told another to do something else. Wasn't a big deal, but could be on another assigment. I recommended we get together to discuss options. We met Tuesday, September 26th, and came up with four alternatives to the current situation:
Rosario and I could switch. Neither of us liked this option.
I could switch with Cisco. Neither of us liked this option.
The two of us could switch with Jordan and Pam. We didn't mind this option, but doubted Jordan and Pam wanted to switch.
Rosario could join me in the back room. Not perfect, but could be the most convenient option. Put the Business Intelligence (BI) team together.
As we had raised this concern with our new manager individually without success months ago, we agreed the best strategy would be to jointly present our proposal to him. I knew her fairly well. She seemed to leave the meeting with a positive, optimistic attitude. I was hopeful as well. This didn't happen. Without telling me, Rosario spoke with our manager by herself. Tom again denied the request. When I discovered this on Thursday, September 28th, I was shocked. "Why did you cheat me?" I asked bewildered. "Not important," Rosario responded. She offered no apology. She was not remorseful. She reiterated it simply was not important. It had been important to me. I sent her a text that evening:
Thu, Sep 28, 9:11 PM
Buena noches ... Where we sit is 0% important to me. Was hoping to be more effective, but this works fine. You did shock me [for lying to me] and that suggests you weren't comfortable about something. I always want you to be comfortable. I don't think I read between the lines on this. As you said, not a big deal. Hope you sleep well.
Rosario didn't respond. This was unusual. I knew she had been going through some difficult times in her personal life. She was in a messy divorce with her husband. I thought this might explain her silence. On Friday, September 29th, our supervisor told me Rosario is "mad at you." "For what?" I asked. He didn't know. We were busy so I sent Rosario a text the next day. We had texted each other since I joined the company.
Sat, Sep 30, 3:57 PM
Hola ... yesterday, Cisco said you were upset with me. Might be good for us to meet with HR. If that's ok with you, I'll request an appointment. I'm going in tomorrow. Tuesday might be open. Sound good?
Rosario didn't respond.
Sun, Oct 1, 12:35 PM
Buenos dias ... Cisco text me the fab is down. Nathan responded. I'm heading over now. I know you get my texts. The fact you don't respond shows me we do need help from a coach. All great teams in the world work with coaches. It's not a bad thing. We are a great team. Actually, we are a brilliant team! You are important to me; we are important to this company; I will not let us fail. I'll copy you on my request to HR. I'm asking for 10am on Tuesday. Have a beautiful, restful day.
Rosario didn't respond. In fact, she never responded to me by text again. She was Hostile In Person when we worked together on an assignment (10.4.17 below). She simply did the "bare minimum" with me from this point forward. I certainly do not claim to be an expert on women, but behavior such as this signals to me I had upset and/or angered my supervisor/trainer/senior partner somehow. She wouldn't speak with me about it. We were entering an intense period of work. We needed to cooperate effectively. As I told Rosario, I contacted HR and requested a meeting for us. Rosario refused to meet (see 10.2.17 at 8:35 AM below). The HR Director refused to bring us together. Clearly, Rosario was upset. She just punished me with her passive aggressive behavior until the company fired me.
From: Rosario Gonzalez
Sent: Monday, October 2, 2017 8:35 AM
To: SolAero Tech Employee; Silvia Gentile, HR Director
Cc: Tom Hensley, IT Manager
Subject: RE: Meeting Request
XXXXXX,
I'm not participating on this meeting. I don't want to be wasting others people time just because you and I don't know how to communicate well. I think I can easily fix this problem by sending you all my communications via email. This way you have detail information and we avoid misunderstandings.

No need for therapy time, I'm here to produce and get the job done.

Thanks,
Rosario
Send you all my communications via email?
Employees at SolAero Technologies used email extensively, as do most people today. Yet CEO Brad Clevenger had instituted "no email Fridays" near the end of 2016 to encourage us improve communications and teamwork. SolAero Technologies recognized the efficiency of email, while cautioning about limitations. Rosario's proposed solution violated company culture and common sense. HR Director, Silvia Gentile, said nothing. Kristie Lorette writes about the "Use of Email in Business Communication":
Although internal email usage can cover many areas within the business, it cannot and should not replace all face-to-face communication and others forms of communication. Using email in business communication is certainly less personal than face-to-face communication. It can hinder social interaction and lead to less relationship building in the workplace. Misunderstandings are commonplace in written communication simply because the recipient cannot read the writer's tone and expression, and therefore is left to interpretation.
SolAero Technologies Contact Albuquerque Police TWICE for Posting and Sharing Comments
SolAero Technologies falsely accuses me. They hope to intimidate. These BOLD words of truth frighten cowardly senior managers. This is why the HR Director advised, "We cant [sic] answer his emails." What kind of people BRAG and BOAST publicly about planning to hire some 100 people — receiving kudos from Albuquerque's mayor and New Mexico's governor — then fire workers for the Holiday Season. Frank had 18 years of service. Was senior managment not smart enough to find a way to retrain and retain him? Cathy had over 10 years. Fantastic employee. Could not train her for one of the new positions? I knew both — smart, talented and dedicated employees. SolAero Technologies senior management: CEO Brad Clevenger, COO Jeff Lassiter, HR Director, Silvia Gentile — you totally suck!
About September 29, 2017, my senior partner, Maria Rosario Gonzalez (Velasquez), stopped interacting with me as we had done over the past 9-10 months. Something had upset her; she was angry and apparently offended. Since hiring me, she had turned on the "light" intellectually and professionally for me. Now, she simply switched it off. I tried repeatedly to determine what had happened. Rosario refused to discuss the matter with me. I tried in person; sought professional intervention; emailed; and finally, created this website. SolAero Technologies HR Director, Silvia Gentile, childishly continued to view this as a "personal" concern — as if we were in 7th grade or something. I didn't want to go to the noon dance with my coworker; didn't want to have a beer with her. She had withdrawn from me professionally.
Doing the Bare Minimum
Speaking with Silvia Gentile and APD Officer Barlow, they asked how Ms. Gonzalez changed her behavior. Many ways. One example is she began to provide only bare minimum information and make bare minimum effort when I sought help or collaboration. Both the HR Director and police officer said, "Why is that a problem? Rosario is only required to do the bare minimum." Let's ask Albuquerque voters. Crime has skyrocketed in Albuquerque. Officer Barlow has no problem with Albuquerque police doing only the bare minimum to provide security. Are you satisfied with this attitude?
From observation, I believe the SolAero Technologies HR Director is a bare minimum employee. Silvia Gentile was more concerned whether employees ironed their slacks, tucked in shirts and combed their hair rather than getting to Jupiter or studying Mars. She's not suited for scientific research and manufacturing. I came to her for help on October 3rd. She told me honestly SolAero Technologies loved my work. Two weeks later, she fired me! Bare minimum effort — it's easy to fire. It takes hard work to build successful teams. Rosario and I had formed a successful team. Yet my female coworker was suffering intense personal problems at home; pressure was high at work. Under difficult conditions, teams can become side tracked. It take more than bare minimum effort to build champions!
SolAero Technologies produces solar cells used in defense and science missions in space. Sending a probe to study the sun is not a bare minimum project. Conducting detailed reconnaissance of Europa, a moon of Jupiter, is not a bare minimum project. There are no technicians in space. Our work must be PERFECT. Missions take years, maybe decades, our work must LAST. Conditions in space — intense radiation, wicked and harsh temperatures — require more than bare minimum efforts. SolAero Technologies hired me because I WAS NOT a bare minimum employee. I managed ALL the information for a $100 million company. One mistake and I could delete all of it. SolAero Technologies did not hire me to do a bare minimum job. They wanted Maximum Effort from all of us. The company recognized Maria Rosario Gonzalez (Velasquez) as a Rock Star, because she WAS NOT a bare minimum employee. These two women defend bare minimum effort to PROTECT a woman unjustly.
Bare Minimum is NOT the Rock Star culture at SolAero Technologies. Frank was not a bare minimum employee; Cathy was not a bare minimum employee. I am not a bare minimum employee. Any who accept bare minimum effort should be the ones in the unemployment line.
Establishing Boundaries Critical In The Workplace
It took two months for Rosario to respond to me (11.22.17 below). She and SolAero Technologies contacted police due to my persistence. Even APD Officer Barlow scolded Rosario, "You must tell him what you want. You cannot remain silent!" Thank you! The negligent HR Director wouldn't do this. She perpetuated the tension. She gave my powerful coworker a pass. Silvia Gentile borrowed from Rose McGowan, "Wee little baby man had a widdle baby tantrum cos he wants his coworker to be professional with him." Although Rosario continues to refuse to explain what went wrong, all I ever asked was an explanation from her. Officer Barlow shared with me, "Unfortunately, she doesn't have to give you the answer you are seeking." A professional would answer me, but the officer is correct. I can't demand my female coworker treat me professionally or ethically. All I can do is tell this story and hope conditions improve for the next generation.
One male coworker at SolAero Technologies, Clinton, would greet me whenever we passed with a bear hug and "God bless you!" I accepted his hug and salutation. By my action, I gave him "permission" to greet me this way in the future. It would be both unfair and unprofessional to run to HR and file a complaint after Clinton greeted me this way one morning months later. I had given him permission. It was my responsibility, as well as obligation, to tell him I wanted to change the rules — if I wanted our relationship to be different.
Power, or perception of power, changes this dynamic. Clinton and I were coworkers. We had equal power with each other. This is called symmetrical. If Party A is a supervisor and Party B is a subordinate employee, rules change. The relationship is assymmetrical. Subordinates can feel compelled or coerced to accept the greeting, although they would prefer not to be hugged. Policy attorney, Heron Greenesmith, provides an example:
Let's say Kris had a drink or two at a bar with Taylor. Kris is Taylor's supervisor at work. Kris invited Taylor home and Taylor agreed. At home, Kris and Taylor made out. Weeks later, HR requested Kris go through mandatory sexual harassment training because Taylor realized she felt coerced by the difference in power in the situation at the bar.

Kris did not think he had used his power to coerce Taylor. But that is not Kris's decision to make. Even without making a conscious decision to use violence, Kris used his power as Taylor's work supervisor to coerce Taylor into sex. Even if the interaction seemed consensual to Kris — Kris asked Taylor home and Taylor said yes — the power differential made it difficult for Taylor to make any choice other than to consent. And consent by coercion is not consensual.
Rosario had power over me. She assisted my hire; served as my supervisor; was my trainer; and, her title was Senior Datawarehouse Analyst. I was her junior. Over weeks and months, we set our boundaries. We were not romantic. We did not wish to date. Outside of frequent "high fives" when we successfully completed a task, we didn't touch. Both of us wanted simply to be platonic employees at SolAero Technologies. Rosario and I texted daily — at work and later when we were home. After work we would replay some of the day's events or prepare for the upcoming day. Communicating at SolAero Technologies, we relied on personal phones. If Rosario was running late, she would text me, for example. We didn't always have a company computer with us. On about September 29th, Rosario began refusing to respond to me by text. Nada! Silencio!
On Saturday, October 7th, I sent the following text to her. She had refused to answer any of my texts since the 29th:
Buenas tardes ... hope your day is going well. Modesta emailed us a training this week. It talks about our responsibilities as employees. We granted each other permission to text and used this consistently. It's a social contract, as they say. And, we've going 100mph. Then, one day, you drop to zero. As they say politically, the silence is deafening! This effects our work relationship. We must have boundaries ...

I sent a memo to SR management this week, copying Tom & Eric. If you're not interested, that's fine. But per our contract with each other, do you want to participate?

Simply put, if you don't want me to contact you, send STOP. If you want to hear more, OK. If you respect me at all, please tell me what you want. Gracias

Rosario did not respond. Apparently she didn't respect me anymore at all. Not STOP; Not OK. What was I to do? She had power over me. She wanted nothing to do with me. Why?
Finally, on Nov 22, 2017, at 9:02 AM, per the directive of the Albuquerque Police Department, Rosario Gonzalez wrote:
I'm not sure the purpose of all of this but you know what, I need you to STOP sending me emails.
Not interested on any type of communication with you at all.
Police has been notified.
As Rosario claimed she wasn't sure about the purpose of my emails, at 9:39 AM, I responded:
Buenas dias,
Thank you for [finally] reaching out to me. As I always told you, I would respect any of your wishes. "You make the rules," we agreed. And, I will respect your wish. This will be my final communication.

You questioned the "purpose of all this." You served as my supervisor, trainer and senior coworker. For some reason, you stopped communicating with me. How can I do the important work SolAero tasked me to do with you so angry and upset with me? I begged you to meet with me to see if we could work this out. Together, we could fix anything, right? Isn't this what you told me? You refused to try. This is not professional behavior.

Trying to resolve this tension, I asked you to meet with Ms. Gentile. I sought a place that maybe you would feel safe. You again refused and became more angry with me. Thus, I met with her alone. I even asked her if I "smelled badly." She laughed ... yet something I was doing was upsetting you. I simply wanted peace with my valued coworker. You refused to even try to heal the fracture. To this day, I have NO IDEA why you became (and remained) so upset with me.

Being isolated from the group, being torn apart from my coworker, I became panicked and defensive. This job was critical to me — and I could feel it slipping away. I couldn't afford to lose this job — just as you can't afford to lose your job. Facing this conundrum, my behavior became erratic — especially with Tom and Ms. Gentile. I warned you during hiring about my high IQ/low EQ "disability." Not making excuses. This is who I am. I gave you a trigger word to help me; you promised to ensure I didn't get overheated. Yet it was you who frustrated me. Feeling backed into a corner, I became argumentative and difficult.

You assisted my hiring. Your behavior led to my termination. I simply wanted to KNOW what I did to offend you so greatly and why you abandoned me. I would have done anything to correct the breach. I offered many times to try. You refused me. Why?

You asked why I sent you the link. #1: I want you to know how your actions affected me; #2: I am willing to edit, modify or correct any misstatements in my draft recollection if you have suggestions. We are a polarized society that is not communicating effectively. It's hurting the nation; it cost me my job.

You are welcome to forward any comments or corrections to me. I'll consider them. This will be my final communication.

Why did my supervisor/trainer/senior coworker abandon me? Please tell me. Please!!!
Discrimination and Layoffs Cloud SolAero Technologies's Rising Star
CBS and PBS cut ties with TV host Charlie Rose today amid allegations he sexually harassed and groped multiple women. CBS News President David Rhodes noted despite his important contributions, there "is absolutely nothing more important, in this or any organization, than ensuring a safe, professional workplace — a supportive environment where people feel they can do their best work." SolAero Technologies cares little about providing a professional, safe environment. The solar cell manufacturer fails to create a workplace where people feel safe and are treated with dignity and respect.
SolAero Technologies announced massive layoffs October 19, 2017, although boasting to New Mexico governor, Susana Martinez, and Albuquerque mayor, Richard Berry, the company planned to hire some 80 new employees. More layoffs may follow and this dampens enthusiasm within the company. Although national labor statistics suggest robust hiring, New Mexico remains one of the worst places to be unemployed. Some 16 employees — one male reportedly worked for the space solar cell manufacturer for over 18 years; a female served the company for about ten years — and their families will be unable to participate in the good times, as they stand in the unemployment line. A veteran female financial analyst, who had also been with the company for over 18 years, quit recently citing frustration with management.
Poor leadership is disastrous. For example, General Electric (GE) has been a pillar of American industry for 125 years. The struggling company's stock crashed to a six-year low last week after the company admitted it can no longer afford the dividend that once symbolized its stability. GE's problems were self-inflicted and the failure occurred on the watch of two legendary CEOs, Jack Welch and Jeff Immelt. Welch headed GE from 1981 to 2001. Immelt followed. GE was the worst-performing stock in the Dow during Immelt's 16-year reign. Yet he was named one of the "world's best CEOs" and sat on CEO councils under President Trump and President Barack Obama. Leaders failed yet made millions. For GE's 300,000 employees and millions of shareholders, the consequences have been painful.
SolAero Technologies CEO, Brad Clevenger, and COO, Jeff Lassiter, make millions while passing pain to the company's dedicated employees. One male IT employee believes he was included in the dismissed group because he sought to improve his workplace conditions. His female coworker and senior partner refused to sit in the window-less area because she considered the space "too dark, isolated and extremely cold." The space was adjacent to a server room and SolAero Technologies kept the area brutally frigid to protect servers from overheating. Every other member of the IT group demanded not to be located in the area. SolAero Technologies IT manager, Tom Hensley, and IT Director, Eric Kuecherer, refused to be stationed in the unpleasant area as well. Foul odor was also a problem. The area was across from bathrooms. Employees forced to work in the room complained it reeked of "poop" smell.
The male professional says it was torture. "I was part of a small group, like a US military Seal Team where interrelations are critical. My coworker served as my supervisor and trainer. She knew me better than anyone. She kept poking at me to 'fix it.' It wasn't up to me though and I had tried previously. She believed I was missing out on learning opportunities and team building. Other team members would be training, laughing, 'High-Fiving' each other or sharing important company or technical information. I was on the outside looking in. COO Jeff Lassiter stopped by once. He didn't actually come in room — as the area was uninviting. He called the space, 'The Cave.'"
The employee tried to correct the situation a number of times, but says management refused his requests. After suffering a slight communication breakdown, the employee asked for a meeting with his senior coworker. They agreed to jointly speak with their manager. This didn't happen and caused tension between the two. The coworker was under great pressure from SolAero Technologies. Many demands! She was also suffering major personal issues — going through a nasty divorce with her husband of over 20+ years. She told her coworker her family had abandoned her; her boys were angry with her and not speaking to her; that she was suffering horrible pain. She spent the final weeks of September 2017 crying at her desk. What does one do when their work partner is falling apart?
The male employee sought help from SolAero Technologies's HR Director on October 3rd. He had invited his struggling coworker to meet for coffee outside work. She refused. He invited her to meet at work. Wasn't interested. He suggested the two meet with HR. This made her angry. Thus, he met with HR by himself. In that meeting, Silvia Gentile assured him that his position with company was safe and SolAero Technologies valued his contributions. Two weeks later, the company pushed him out the door and into the unemployment line. The employee had "mission critical" responsibilities, so SolAero Technologies's explanation of a layoff simply doesn't add up.
Who am I? I'm the guy in highschool who wore a calculator on his belt; who was president of the Physics Club. I'm a geek ... a nerd. If you drop your computer off the balcony, I'm your guy. But I'm socially-awkward and not the best person to take to a cocktail party. I work well with logical machines and code; but the complexity of human emotion confuses me. I am thus high IQ and low EQ. I was honest with SolAero Technologies about my shortcomings. I gave my coworker trainer a trigger word for me. If I became too excited or animated in a meeting, I instructed her to say, "Timeout." SolAero Technologies could have used a timeout as well.
SolAero Technologies Retaliates
CEO Brad Clevenger told employees he had an "open door" policy. Yet Brad refuses to discuss the isolation matter with the employee. COO Jeff Lassiter instructed employees to watch a TED Talk that described his management style. In the educational video, a submarine commander describes how he "listened" and "learned" from subordinate staff. Jeff refuses to discuss the isolation matter with the employee. Great companies do not do this. Further, the HR Director instructs management not to discuss this matter with the employee.
About 5:24pm on November 11, 2017, SolAero Technologies HR Director, Silvia Gentile, Silvia_Gentile@solaerotech.com, sent the following memo to company CEO and COO. She doesn't want them to speak with me. She believes silence will resolve our dispute. As I have pointed out, these senior managers are extremely confused. Silvia copied me on her comments. I don't believe she wanted to do this. Too late, the damage was done! She offered a rare glimpse how predatory people scheme and plot to harm those who stand up to injustice in America:

Brad_Clevenger@solaerotech.com (CEO)
Jeff_Lassiter@solaerotech.com (COO)
Extremely disturbing.

We cant answer his emails.

Sent from my iPhone
Inappropriate behavior is a PATTERN in America's workplaces and has been out-of-control for decades — both men and women contribute to this hostile environment. Companies "blackball" employees who have a reputation for standing up. I'm thankful for ALL the #MeToo heroes who finally feel safe to speak out. Too many have suffered in the shadows for too long. One of the strategies used by predatory males/females and companies is to SHAME and/or BLAME victims to destroy their reputations. It appears SolAero Technologies plans to do this to me.
Maria Rosario Gonzalez (Velasquez) and America's Culture of Fear
People at SolAero Technologies adore Maria Rosario Gonzalez (Velasquez). I admired, honored and respected my coworker as well. Few know her as I do though. Rosario was scared much of the time. She would "meltdown" about once a week. I coached and counseled her. She loved my Tony Robbins philosophies. As a professional athlete, I had trained with the LA Lakers. They gave me a set of Robbins' motivational tapes. One day after talking her down from quitting, we shook hands. We agreed to stand strong together and formed a partnership for FIVE YEARS. We shook hands and made a promise to each other!
Rosario repeatedly told me what she truly admired about me — that I was "fearless." I wasn't. Like her, I get scared at times. Yet I believe we must live courageously. We simply must "hard charge" through life. We laughed about this and in the face of mountainous work and confused managers, we charged forward. We bonded: Together, we can accomplish anything. And, we did. We climbed a difficult mountain together. She was a SolAero Technologies Rock Star; I was a Rock Star in training.
When she received conflicting directives from managers, she would say nothing to them. "You! You do it. You say something," she would plead with me. After we lost our manager, I and others urged her to apply. "No! I can't afford to lose my job. You! You apply!" she urged me instead. When our new manager, Tom, mentioned he wanted to hire a Project Manager for the Syteline migration, I again recommended Rosario apply. She knew the challenges. She is an excellent leader. Again, she refused, "No!!! I do not trust management. I want to stay quiet."
Statistics suggest women are not paid similarly as men for the same work. This is one reason. Women are afraid to apply for higher positions. Second, they are afraid to speak up when they are treated abusively. Rosario is a female, but she is also a Mexican-American woman. She spent her first 18 years of life in Mexico. Their conservative, paternalistic, and Catholic-dominated culture does not empower women. It teaches them to be quiet and reserved. Powerful women do not make history in Mexico. Can you name one?
Thus, I championed my coworker. I stood up to unreasonable managers: "I just threw my computer off the roof, can you fix in in 30 seconds?" My apologies, I would respond. Please submit a ticket. We'll get it fixed ASAP. I wrote internal memos to CEO Brad and COO Jeff. Brad responded one time. "We pay Rosario well. She receives $90,000 plus bonus. SolAero Technologies isn't for everyone." I had simply asked the company to stop beating her up unfairly and reward her for all the extra work they demanded from her. In the chaos, she was shouldering more responsibility than others.
In an IT group meeting with director, Eric Kuecherer, in March 2017, he discussed plans to hire an IT manager for our team. I nominated Rosario. I told our director, "She has the experience; she knows our internal operations; she is respected by all." Eric immediately squashed the idea. He looked glaringly at Rosario and said firmly, "She does not want the position." End.Of.Story! He didn't encourage her. In typical White Male fashion, he dismissed this qualified minority woman and hired another White Male. This is the workplace for women in America.
Women In America Must Be Sorry For Their Actions
After my meeting with SolAero Technologies HR Director, Silvia Gentile, on October 3rd, she surprisingly attended my next weekly review with my manager, Tom Hensley. Tom criticized and scolded me in the meeting — because I had assisted Rosario. As she is my work partner, this shocked me. "Why are you upset with me?" I asked. Tom said I shouldn't have helped her enter 640 transactions into our production database. Tom added, "Rosario broke it; it's her job to fix it." This was a new directive. Previously, if one of our team "broke" something (made a mistake), we rallied around the team member, gave him or her a hand, and fixed the issue as quickly possible. We would never leave a teammate behind. Tom punished rather than praised. This was his management style. This is how SolAero Technologies treats staff. Rather than pat us on the back for solving a difficult problem, he demanded we get down on our knees and apologize. Some refer to this as "toxic masculinity." The HR Director supported his style fully, "Apologize, maggots!"
Tom was disingenuous. Although both Rosario and I had been assigned to work on this Help Desk ticket, neither of us "broke" it. It was Scott Krieder's financial team that had corrupted the database. They had assigned 10,000s of solar cells to Job A. They later changed their minds and assigned the solar cells to Job B — without properly closing Job A. Cells were assigned to two jobs and this confuses the system. Krieder's group had done this numerous times. The IT team had discussed this error with them; we had provided training; yet they continued to forget. Their mistake caused the shipping process to come to a halt. This last SNAFU occurred in late September. The company was approaching their quarter financial reporting deadline; it was also the end of Fiscal Year 2017. The company demanded we correct the financial team's error immediately.
I received the ticket initially. I corrected what I could, but needed to escalate the matter to Rosario to complete the fix. We had a problem with about 8,000 solar cells. Together, we corrected about 7,460 electronically, but the remaining information would have to be entered manually — by hand. Tom said we should have come to him. "Why?" I asked. Because it was a big deal, he responded. We work with 6 million to 60 millions records. To us, 640 was not a big deal. SolAero Technologies also had a system in place to identify "big deal" items. This is called a Critical Ticket. In such cases, we notify the manager and all of us focus on the issue. This ticket wasn't designated critical. Yet the manager was angry with us.
Tom added he would have preferred to have a "Data Entry" team enter the transactions. I looked directly at the HR Director after this. "What data entry team?" I asked. We had no data entry team at SolAero Technologies. Tom recently came from Presbyterian Healthcare. They have data entry staff there. Apparently, he was confused. In our group, WE are the data entry team! Silvia Gentile said nothing about his confusion. She simply asked, "What did Rosario say?" Tom answered, "She said she was sorry!" Silvia smiled. She was pleased.
We worked overtime, per our assigned instructions, and both Tom and the female HR directed demanded Rosario say, "I am sorry!"
This is how WOMEN are treated in America. She didn't make the mistake; we didn't have anyone else to help us. She simply did the best she could to resolve a problem created by another group. We took responsibility for the work; we demonstrated initiative to correct the error; and although it was a tedious, tough job, we "Seized the Opportunity Positively" — as the company Rock Star culture demanded. She took about 300; I took about 300. Neither of us made an error. We finished in a couple hours and got the shipment out that day in timely fashion.
Crisis averted. Company saved. Financial position improved. SolAero Technologies management demanded an apology from this woman. This is "toxic masculinity." Neither applauded our efforts. We had followed our training and protocols. Yet both managers abused my senior coworker so harshly she felt coerced to apologize for her professional, accurate and prompt efforts. I didn't apologize. I had nothing for which to apologize. I promised I would never make this mistake again — I lost my job! Times are changing though. Women and workers are Saying No! to unethical and inappropriate behavior. Leeann Tweeden, many others, are standing up today. Leeann's action, as well as action by many other women, is encouraging others.
Leeann Tweeden claimed US Senator Al Franken touched her inappropriately. "I wanted to speak out 11 years ago, but people said, 'You will get annihilated and never have a career again.' And I was afraid of that. But I'm not afraid of that anymore."

"This is happening in Middle America... to women who have no power and say to speak up. I think the tide is turning. But what about all the women who don't have microphones and a voice? What was I gonna do, be the troublemaker? I just sucked it up."

Lindsay Menz, 33, now claims Senator Al Franken "inappropriately touched her in 2010" while posing for a photograph at the Minnesota State Fair. She speaks up today, "If someone sees that I said something, maybe it would give them the courage to say something too."
This action did not protect Maria Rosario Gonzalez (Velasquez) when management abused her or treated me unfairly. She did not have a microphone; she knew she did not have a voice. Women in Middle America remain scared. Employers intimidate unprofessionally and Rosario was afraid. She dared not stand up for herself; she dared not stand up for her junior coworker. She had to put her job and her family's security before doing the "right thing" — their action forced her to pull away from me. SolAero Technologies fails to create a workplace where people feel safe and are treated with dignity and respect.
Brief History About SolAero Technologies
Although SolAero Technologies suffered a "shooter in the workplace" years ago, I considered myself fortunate to be selected to join their IT department of about ten members in a company with close to 250 employees. SolAero Technologies provided specialized, emergency training in case a violent event occurred again. My work performance was excellent, and when hired, their job posting and staff ensured my position would be protected: "Job Security: Inspired to perform well by the knowledge that your job is safe." The emergency training was kind of intimidating, especially knowing SolAero Technologies has 4-5 nuclear reactors and many toxic chemicals on properly. I had been a nuclear engineering major in college so this seemed like a good fit. In addition, SolAero Technologies maintans large stores of precious metals on property, like gold and silver, that are used in the space solar panel manufacturing process. Temperatures in outerspace can change from something like -300 degrees below zero to 300 degree above zero in an instant. Metals and other materials expand and contract greatly under these conditions.

Photo Taken on about September 13, 2017
Job security was an important promise by the company, as SolAero Technologies has a bad reputation of cycling through employees. This causes much waste and confusion. Speaking with HR representative, Silvia Gentile, on October 3rd, she confirmed I was an employee in good standing and assured me the company valued my work. "You're not going anywhere," Silvia told me. "It costs us so much to hire, train, as well as fire, any employee. SolAero has no intention of letting you go." Yet on October 19, 2017, the company laid me off, reportedly along with about 15 other employees — one who had been with the company some 18 years. Our general manager had this to say about my assigned partner and I when he left SolAero Technologies in March:
You were a breath of fresh air and appreciated your passion from the first conversation. You and Rosario will continue to do amazing things there. Just stay calm, cool and collected and drive straight through every issue! Let me know if there is ever anything I can do to help you.
A supervisor fowarded these comments:
Chelsea... Jeremy... Gilbert and Maggie were sad when they found out about you.
Another manager with whom I worked closely had this to say:
I am sorry that happened. I am shocked as I thought the project was going well as far as I could tell. I will definitely keep you in mind for future openings. Thanks for your help with everything. I wish you the best.
Another manager:
It is always a pleasure working with you! Thank you for all the encouraging and kind words, we are touched and inspired.
On November 9th, I forwarded a TED Talk, How To Be a Great Leader, to SolAero Technologies CEO, Brad Clevenger; COO, Jeff Lassiter; and HR Director, Silvia Gentile. Motivational Speaker, Simon Sinek, told the audience about an enlightened CEO at NYC tech company, Next Jump. Charlie Kim posed a question to his team: "If times were tough, would you consider laying off one of your children?" Of course, we would never do this! "Why then," CEO Kim asks, "do we consider laying off people inside our organization?"
CEO Kim instituted a policy of lifetime employment. If an employee gets a job at Next Jump, they cannot get fired for performance issues. If the employee struggles, they will coach him/her and Next Jump will give the person support. The company coaches the employee — just like parents would coach one of their children who comes home with a C from school. Mr. Sinek argues this is the "complete opposite" from the way companies traditionally behave in America. He adds this is the "reason so many poeple have such a viceral hatred and anger at some of the banking CEOs" due to their disproportionate salaries and bonus structures. "It's not the numbers," Simon claims, "it's that they have violated the very definition of leadership; they have violated this deep-seeded social contract. We know they allowed their people to be sacrificed so they could protect their own interests, or worse, they sacrificed their people to protect their own interest."
SolAero Technologiesnologies claims to be a leading provider of satellite solar power solutions and precision aerospace structures to the global space markets, encompassing a wide array of applications including civil space exploration, science and earth observation, defense intelligence and communication, and commercial telecommunications industries. The business was founded in 1998 and is headquartered in Albuquerque, New Mexico, USA. During my tenure, New Mexico's governor, Albuquerque's mayor, and other dignitaries visited the campus. Employment in New Mexico lags the rest of the nation and SolAero Technologies frequently boasts they are hiring — and hiring for coveted "good paying" manufacturing jobs.
Speaking with Kevin Robinson-Avila, Tech Bytes, who writes for the Albuquerque Journal, Business Outlook (8.14.17), CEO Clevenger reported SolAero Technologies invested some $10 million in their Building Two facility at the Sandia Science and Technology Park. SolAero Technologies's investment will add around 80 more employees, although about 15 people had been hired at the time of publication. SolAero proactively promises to hire the remainder early in 2018.
Discrimination at SolAero Technologies
James Damore, a tech employee working for Google, lost his job earlier this year after publishing an internal memo criticizing the company's diversity efforts. Google and many tech firms have come under fire for their employment practices. Damore believes "White Males" are currently suffering reverse discrimination in the workplace. He claims companies like Google have special programs to help advance women and People of Color — but believes White Males are being shortchanged.
SolAero Technologies discriminated against me. Consider this, there were ten employees in our group. Nine were White, one Black. The company wanted us to sit in the same location and put the nine White employees in the large room. They isolated the sole Black employee in the back. Is that fair or legal? What if our group consisted of nine men and one woman. The company put the nine men together and isolated the woman in the back. Would this be fair or legal? Well, I'm a White male. The company forced me to sit alone, isolated from the rest of our small team, in a cold and window-less area. Is this situation fair or legal? Nobody else on the team, including our manager, Tom Hensley, wanted to be isolated in the area. My team partner, Rosario Gonzalez, was so fearful of being isolated in the back that she began lying to me. She's an ethical person overall. Fear of being separated caused her to behave unprofesionally. What does that tell you? In addition, SolAero Technologies organized our IT department into four groups: SysAdmin, .Net Developers, Datawarehouse Analysts and Help Desk. They assigned personnel as follows:

SysAdmin: Louai Alnashef and Neil Davis
.Net Developers: Nathan Holt and Don Shields
Datawarehouse Analysts: Rosario Gonzalez and Me
Help Desk: Cisco Trujillo, Jordan Peretti and Pam Ure
SolAero Technologies didn't plan well for the IT team's location. When I arrived in 2016, the group was scattered throughout Building One. I was initially stationed with the Help Desk team. The company moved us in December to accommodate a weld training project. They needed the area for NASA trainers, but didn't have space for us. We ended up in temporary assignments.
Cisco and Jordan ended up in the cold, isolated area where I would later be assigned. They hated it. And, it was terrible. I submitted the two for SolAero Technologies "Rock Star" nominations due to their positive and professional response to the difficult situation. SolAero Technologies officially recognized both of them due to my letter. I copied our IT Director, Eric Kuecherer, in California. He seemed unaware of the difficulties.

Chaos in IT Due to Senior Management Confusion
Happy New Year's Eve Maggie and Meghan,
I want to thank both of you for all the work you have done to improve culture, morale and staff relations here at Solaero. I'm now fortunate to have been with this exceptional group of talented people for about six weeks. I'm extremely proud to be part of the team and grateful for the opportunity to work and learn with such respected professionals. I know 2017 is going to be amazing for all of us!!!

On Watt's Up, you offered staff the opportunity to improve our Corporate Culture. As Solaero is highly successful, there aren't many negative issues, yet we know there's always room to motivate ourselves to higher levels of performance. I would like to submit a couple employees for recognition: Cisco Trujillo and Jordan Peretti. I observed them performing above and beyond their general job duties to ensure other Solaero groups could be more productive and happy. As you remember, Cisco, Jordan and the Help Desk crew were located in the area NASA now uses for the weld training. About December 12th, those of us in the area received a request to vacate by December 23rd. This was a major task due to all the technical equipment IT helpdesk maintains. Yet Cisco didn't procrastinate. He organized his team to move immediately. Working with other volunteers from the company, we were able to fully vacate about ten days early. This gave the remodeling crew more time to prepare for NASA. Although the new IT location was not ready, there was no complaining or foot dragging. This group simply met the challenge with positive energy. I've included a picture showing conditions post move. It was simply overwhelming. And, since that time, Cisco and Jordan have worked tirelessly to professionally store and organize the massive amount of equipment, while continuing to provide high level support to the rest of us.

As a new member of the Solaero team, this is the spirit that makes this company great. When facing obstacles and challenges, this team simply exceeded all expectations — and did so in a positive, cheerful manner. Such behavior is infectious. Positive action leads to positive reactions and positive reactions lead to greater positive action. As we end a tumultuous 2016 and open a new year, I hope we can recognize these examples of positive performance and encourage all of us at Solaero to continue striving to "be the best we can be."

Thank you, Maggie and Meghan, for your leadership; thanks to Cisco and Jordan for implementing Solaero's winning values!
Due to Cisco's and Jordan's frustration, the company moved them to a new location and put Don Shields, Nathan Holt and me in the uncomfortable area. I had asked my IT Director not to move me. He denied my request. Don and Nathan were furious. The area was crowded, cold, dark and isolated. I sent a picture of the arrangement to IT Director, Eric Kuecherer, CEO Brad Clevenger, and COO Jeff Lassiter. By the end of the day, they moved Nathan to an office. They required Don to remain in the area with me. Don was extremely upset. They promised to move him as soon as possible. They made no promises to me.
By late June, some six months after my first move, SolAero Technologies finally began work to construct the next seating arrangement. Management was tremendously disorganized and the team suffered in the temporary and unsuitable location. Our new manager put the SysAdmin team (Louai Alnashef and Neil Davis) together; put the .Net Developer team (Nathan Holt and Don Shields) together; and placed the HelpDesk team (Cisco Trujillo, Jordan Peretti and Pam Ure) together. Rosario had been in an office and I had been in the unwanted area. We constituted the Datawarehouse team, but Tom didn't put us together.
Rosario wanted to remain in her office — initially I had been concerned about high traffic in the small space due to the number of visitors we both received. This angered Rosario. She didn't want to leave the office and my comments led our manager, Tom Hensley, to kick her out. As a result of her frustration, I officially asked Manager Tom to keep us there. He denied my request. He assigned Rosario to a bank of cubicles and kept me in the undesirable location. I made a second request and asked him to put both Rosario and I in the isolated area. He denied this request saying Rosario didn't like the dark and cold.
Rosario immediately rebelled. She moved from the IT area into a vacant cubicle in Building Two. I wanted to join her but there were no more spots. She remained there for about two weeks until Manager Tom ordered her to return to the IT area in Building One. He demanded she sit in bank of cubicles in a high traffic area. It was noisy and disruptive. She wasn't happy. She was angry and directed much of her frustration toward me.
The other three groups in our IT department sat next to each other. This allowed them to share information and continue their training. This made operational sense. SolAero Technologies, on the other hand, separated Rosario and me. For all the same reasons, it made our work more difficult and strained our relationship. After trying the arrangement for a couple months, I asked Manager Tom about reassigning us. I suggested relocating Rosario to the isolated area with me. He refused.
Finally, I forcefully asked him why. "She doesn't like the cold, dark, window-less environment back there," he said. I responded, "But it's okay for me, a male, to suffer those conditions." I reminded him I asked not to be assigned there. I reminded him nobody wanted to be assigned there. Manager Tom didn't want to be there. He could have accepted the burden. IT Director Eric could have used the area when he visited once a month. Yet Eric disliked the area so much he used a vacant desk in another building.
Managers didn't want to be stationed there. The Syrian Muslim didn't want to be back there; SolAero Technologies granted his request. The African American didn't want isolated there; SolAero Technologies granted his request. Hispanic members didn't want to be isolated there; SolAero Technologies granted their requests. Female staff didn't want to be isolated there; SolAero Technologies granted their request. Anyone with senority didn't want to be isolated there; SolAero Technologies granted their request.
Besides being isolated, it was freezing back there. HR Director, Silvia Gentile, scolded SolAero Technologies employees in spring 2017 for being improperly dressed. She reminded us the SolAero Technologies dress code calls for "Business Casual." Silvia has a nice and spacious office in Building Two. She wears attractive dresses, cute shoes and fun fashions. I wish she would try sitting with me. She would be chilled to the bone in her "business casual" attire. I had to wear sweats and a heavy jacket while at work. I kept my business clothes hanging next to my cubicle. I would change for meetings or important sessions. It was simply too cold to dress more formally in that climate.
Efforts to Champion Coworkers
I'm not perfect. None of us are, but I am committed to developing strong teams where I work. Recognizing excellence in others is my preferred behavior. I nominated a number of coworkers in my first year. Coincidentally, after meeting with HR Director, Silvia Gentile, in the morning of October 3rd, I took time during lunch to recommend a coworker, Jill Courtney. She had done an excellent job helping us correct errors made by Scott Krieder's financial team. This is how teamwork works. Humans make errors. We pull together to fix the issue. We do this with a smile and professional action. Our Communication Director, Maggie Smith, responded to my requests on October 9th. I had submitted an IT coworker, Pamela Ure, for a Rock Star award as well. Pam brought some delicious sausage links to a team building, "burrito breakfast" (pictured below). She kicked off the Halloween spirit by coming in early to decorate our office area. Both Jill and Pam would be recognized! How cool is that? Sadly, unbeknownst to me, while I was lifting up my coworkers, SolAero Technologies was processing paperwork to terminate me.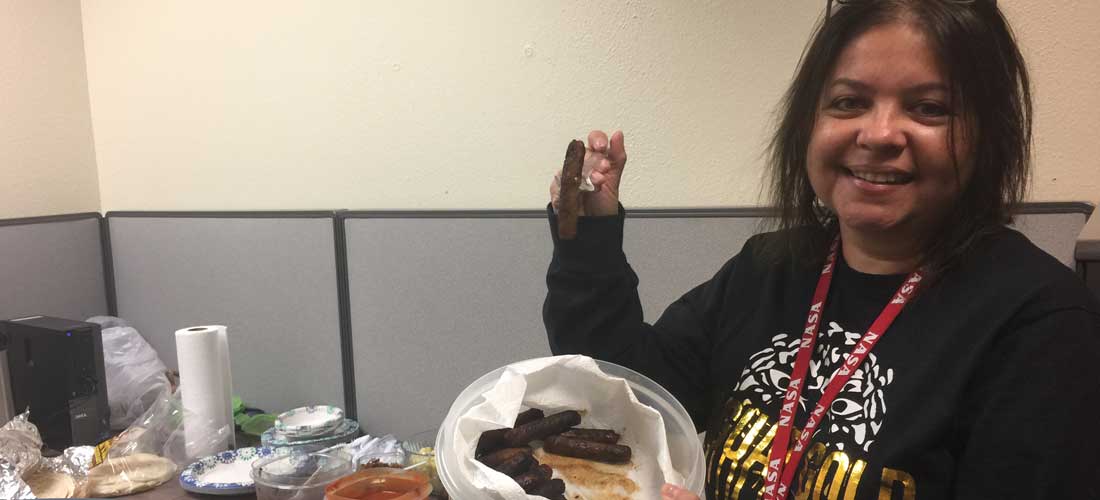 New IT Group 'Little Sister' Pamela Ure
From: Maggie Smith
Sent: Monday, October 9, 2017 12:53 PM
Subject: RE: Rock Star nomination

We will be recognizing Jill this week as a Rock Star and then Pam in a few weeks. Thanks for the nomination!

Maggie Smith
Marketing Communications Manager
505-559-2685 Office
www.solaerotech.com
Sent: Tuesday, October 03, 2017 12:32 PM
To: Maggie Smith
Cc: Brad Clevenger; Jeff Lassiter
Subject: Rock Star nomination

Good afternoon Maggie,
I would like to nominate Jill Courtney for Rock Star recognition. As we all know, she is fun, positive and pleasant in her work, which builds team spirit. Like most of us, she geeks out on the science. She's warm and encouraging to others and creates constructive relationships. When challenged, no complaints from her. She seizes opportunities positively. Most importantly, as we approached the recent quarterly and fiscal year deadline, she had the energy and enthusiasm to ensure We Got It Done! We did. We shipped tens of thousands of products – without a snag and on time – due primarily to Jill's leadership and effort.

Her work these past couple weeks has truly been amazing. Rosario initially assigned me to manage a project with the Shipping team months ago. As a company, we go through many steps from start to finish to get products out the door. Shipping isn't sexy or seemingly important. It's a minor step in the process, but if this step breaks down, SolAero misses a deadline and all the work is lost.

Focusing on this step, we discovered a pattern of activity that leads the process to collapse. I was able to meet with principals and we created a plan. Rather than wait for a problem to arise, Jill helped us get ahead of operations. She uncovered discrepancies in the tracking system that allowed us to correct the mismatch before the shipping process caught up. And, when we needed to fulfill shipping orders late last week to meet the quarterly deadline, the system responded without error.

Jill's work was critical to SolAero's success. She's a total Rock Star!
SolAero Technologies assigned me to lead the DataLyzer project for the IT group. Prior to my arrival, this effort had become a battleground across the company. IT management felt they were too understaffed to support the engineers. On their own, the engineering team built an inefficient system and was tremendously frustrated. Working together professionally, we did it! The system we created was a model of excellence. The personal bonds we developed represent the best of human existence. CEO Brad complimented me for my submission. He teased me for creatively modifying a controversial Rock Star principle, "Gets Shit Done." Although this was one of the stated SolAero Technologies goals, many in the company felt the use of "shit" reflected poorly on our character. I modified this to, "GOT IT DONE !!!"

From: Brad Clevenger
Sent: Wednesday, June 21, 2017 8:29 AM
Subject: RE: Rock Stars Nominations

Thanks, XXXXX. Nice note. Great use of the core values (while keeping it clean ;)

My calendar has filled up today and tomorrow, but let's shoot for Friday to catch up if you still want to chat.
Sent: Wednesday, June 21, 2017 8:22 AM
To: Chelsea Mackos; David L Torres; Samantha Cruz; Jeremy Moore; Kenneth Cordova; Robert Nolan; Paul Roland; Paul Trujillo; Steven Howard; Jacob Gutierrez-Kolar; Roger Esra; Tyler Braaten; Randall Arnold; Ashok Sedhain; Gilbert Ramirez; Nathaniel Miller; Claudia Struempel; Steven Whipple; Christopher Kerestes; Jeff Steinfeldt; Karen De Zetter; Lars Tomasson; Larry Cisneros; Benjamin Johnson; Consuelo Wells; Erik Watson; Louai Alnashef; Neil Davis; Francisco Trujillo; Jordan Peretti; Pamela Ure
Cc: Maggie Smith; Meghan Smith
Bcc: Brad Clevenger; Jeff Lassiter
Subject: Rock Stars Nominations

Good morning Maggie and Meghan,
I would like to nominate the SolAero TEAM listed above (see the TO email line) for their Rock Star efforts as we migrated the DataLyzer application to a permanent, production-level home — on our new server, NMABQSPC01. Chelsea and I finalized our review late yesterday afternoon. Mission Successfully Accomplished !!!

DataLyzer is the hub of the company's SPC, Statistical Process Control, program that guides our engineering and quality control teams to ensure SolAero products and processes are efficient and reliable. A motivated engineer initiated this fledgling program years ago by hosting the application on a server under his desk. His trial demonstrated the efficacy of the SPC program and DataLyzer now serves as a core analysis tool for our manufacturing process.

This collaboration was led by engineers, Jeremy Moore and Samantha Cruz; guided by managers, Chelsea Mackos and Bob Nolan; and supported by dozens of operators and engineering staff. We acknowledge also Louai Alnashef and Neil Davis, IT system administrators, who designed the server environment; Cisco Trujillo, Jordan Peretti, and Pamela Ure, IT Help Desk, who updated fab computers.

This team Seized the Opportunity Positively ... Built Team Spirit ... Created Constructive Relationships ... Geeked Out on the Science ... and, bottom line, GOT IT DONE !!!

Thanks to all for the professional efforts.
Efforts to Champion SolAero Technologies Programs
As most of us are aware, obesity is an epidemic in America. The United States has the greatest number of obese adults, with 79.4 million (35% of the population), followed by China with 57.3 million. "We need to control the consequences of obesity much better globally ... and help people who are obese to lose weight," urged Goodarz Danaei, assistant professor for global health at the Harvard T.H. Chan School of Public Health. SolAero Technologies was trying. They created a "Biggest Loser" program at the company. And, they put their money behind their efforts. They partnered with the Health, Exercise & Sports Sciences at the University of New Mexico to offer SolAero Technologies employees free body composition tests. This is superior to stepping on a scale, as a scale can't determine if the person has added (or lost) more muscle weight than fat weight.
Using body composition testing, the individual can accurately track their progress. SolAero Technologies paid any employee who participated in the program $100 for each One Percent of body fat reduction. Some people took home $1,000s of dollars. At the end of the most recent six-month session, COO Jeff Lassiter announced SolAero Technologies paid over $15,000 directly to employees — at a cost of more than $30,000 to the company, as they paid taxes for employees. This was SolAero Technologies at their best — when they truly cared about their employees.
I have a background in health research. One of the troublesome concerns in America is the amount of time employees spend sitting at their desks. Studies, such as one published online in Annals of Internal Medicine, concluded adults who sit for one to two hours at a time without moving have a higher mortality rate than adults who accrue the same amount of sedentary time in shorter bouts. At SolAero Technologies, engineers and IT professionals frequently need to sit for extended periods. "So if you have a job or lifestyle where you have to sit for prolonged periods of time, we suggest taking a movement break every half hour. This one behavior change could reduce your risk of death, although we don't yet know precisely how much activity is optimal," said Keith Diaz, PhD, associate research scientist in the Department of Medicine at Columbia University Medical Center (CUMC) and lead investigator of the study.
I had different results. Participating in the program, I did my best to move ever thirty minutes or so, but ultimately, I spent 8-10 hours per day at my desk. I exercised 6-7 days per week for about ninety minutes. This included cardio as well as weight training. Further, I maintained a disciplined diet of limited lean proteins, whole grain breads, and ample quantities of fresh fruits and vegetables. To the constant objection of my worker, Maria Rosario Gonzalez (Velasquez), I refused to eat sugars at work. She is highly addicted to chocolate and encourages coworkers playfully to treat her to sweet treats whenever they wish.
My efforts were not working. As a professional athlete, UNM tested me a number of times and I averaged about 6 percent body fat. Years later as a professional software developer, my first body composition test pegged me at 18 percent body fat. This is a healthy profile, but I wanted to lean down a bit — and hoped to win some money. Nothing worked. Subsequent tests showed me edging upward, not down. I was slowly losing muscle and gaining fat. Then, I went on vacation. I ate more and consumed more fatty, greasy food, yet I was active all day. I'm a good surfer and spent at least two hours per day battling and playing in big surf. This exhausted me. In just two weeks I reversed the negative damage I had done to my body in a sedentary work environment for over five months. Vacation got me in shape!
This is something ALL Americans want — and need — to hear. "Give us more vacation!" And, as a nation, we take too little vacation. SolAero Technologies rewarded me with over $300 for my success. When SolAero Technologies fired me, they destroyed the scientific Case Study I was developing for the company in collaboration with the university. Just another loss to America due to the confusion and chaos at SolAero Technologies!
From: Christine Mermier, University of New Mexico
Sent: Tuesday, June 27, 2017 9:54 AM
To: SolAero Technologies Employee
Cc: Kelli King
Subject: Your underwater weighing results

Hi XXXXXX — Kelli King forwarded me your email about your concerns regarding your latest results of the body fat testing you had done here. I am her supervisor, so she thought it best for me to respond. It appears that the first test results were incorrect as there was a data entry error. I have attached your results with all three tests included. I really apologize for this error. I double checked all of the other original data sheets and the rest of your data was entered correctly.

As for your ideas about the body composition changes since your testing when you were younger, besides the factors you mentioned, perhaps you are not eating adequate amounts of food, which can cause your metabolism to slow. There is not a way of knowing for sure without talking with a dietician, and/or doing another test here which measures your resting metabolic rate. Your other theory about decreasing testosterone is also a possibility, as unfortunately, as we age the levels of sex hormones and others, such as growth hormone, do decrease making it harder to maintain muscle mass and decrease body fat.

I hope this addresses your doubts, if not, please don't hesitate to contact me.

Kind regards,

Dr. Christine Mermier

Christine Mermier, Ph.D.
Lab Director & Associate Professor
Exercise Physiology Lab
Health, Exercise & Sports Sciences
Johnson Center B143 MSC04 2610
University of New Mexico
Albuquerque, NM 87131-0001
SolAero Technologies Frustrates Staff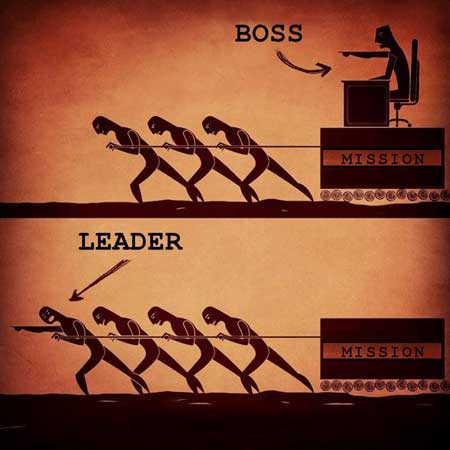 SolAero Technologies Management Style Regarding Seating Arrangement
My senior coworker, Maria Rosario Gonzalez (Velasquez), and I had a phenomenal relationship to this point. When Manager Tom announced he was forcing her to leave her office, she blamed me. More accurately, she was furious with me. It brought me to tears when I told the HR Director about her frustration with me over the office incident. Had Manager Tom simply allowed her to remain, I believe I would still be working with the company. This fractured our relationship. As a Mexican American female in the male-dominated world of IT, she was not comfortable speaking up for herself. She maintained a passive aggressive posture — she was mad at me and the situation but would not express her frustration to management. Rosario is smart. Speaking up costs employees their jobs!
SolAero Technologies went through many changes in the year I worked there. I had four different supervisors. They moved us around disruptively — putting me in five different assignment locations. I ended up isolated from the group. As a new employee, this was extremely frustrating. I had much to learn, and divided, it was hard to continue growing. Without my senior coworker, I was lost. Feelings of desperation and despair grew inside me daily. Isolation from any group can lead to serious psychological effects.
Researchers have found little to suggest that extreme isolation is good for the psyche. In one notorious study from the 1950s, University of Wisconsin psychologist Harry Harlow placed rhesus monkeys inside a custom-designed solitary chamber nicknamed "the pit of despair." Shaped like an inverted pyramid, the chamber had slippery sides that made climbing out all but impossible. After a day or two, Harlow wrote, "most subjects typically assume a hunched position in a corner of the bottom of the apparatus. One might presume at this point that they find their situation to be hopeless." Harlow also found that monkeys kept in isolation wound up "profoundly disturbed, given to staring blankly and rocking in place for long periods, circling their cages repetitively, and mutilating themselves." Most readjusted eventually, but not those that had been caged the longest. "Twelve months of isolation almost obliterated the animals socially," Harlow found.

Stuart Grassian, a board-certified psychiatrist and a former faculty member at Harvard Medical School, has interviewed hundreds of prisoners in solitary confinement. In one study, he found that roughly a third of solitary inmates were "actively psychotic and/or acutely suicidal." Grassian has since concluded that solitary can cause a specific psychiatric syndrome, characterized by hallucinations; panic attacks; overt paranoia; diminished impulse control; hypersensitivity to external stimuli; and difficulties with thinking, concentration and memory. Some inmates lose the ability to maintain a state of alertness, while others develop crippling obsessions.